How do you pump up inflatable pool toys? You can pump up your inflatable pool toys in many ways. You'll find various types of air pumps to inflate the floats in the market. But air pumps are not the only way you can float the inflatables. You can use equipment from your household items for this purpose as well.
So, which items are useful to pump up pool toys? How can you utilize them effectively to float the toys? Below we are giving you a demonstration of three full-proof ways that will help you to pump up the inflatable pool toys without putting in much effort.
How Do You Pump Up Inflatable Pool Toys?
There are many ways you can pump up inflatable pool toys. But we are going to share the three most common tricks to pump up the pool toys. The three common ways to inflate the pool floats are-
i) Electric Air Pump
ii) Vacuum
iii) Air Compressor
i) Electric Air Pump
Air pumps have different varieties- Electric, Battery-operated, Manual, foot pump, etc. Electric pumps are the most common and hassle-free way to inflate pool toys. They are widely available and cheap. Also, air pumps are easy to operate. A high volume, low-pressure air pump fills up the floaties fast. Besides saving your time, it saves the effort to pump them by mouth.
So, you can buy a portable electric air pump for a fast and easy pump up. However, this is not suitable for pumping up a basketball, gas balloon, or car tire. You can buy a battery-operated or manual air pump if you do not want to be bothered about the electricity availability.
How To Inflate A Pool Float With An Electric Air Pump?
Electric air pumps come with three nozzle sizes to fit various floating items. Choose among the nozzles (large, medium, small) which one fits the inflatable. Attach the nozzle with the fill valve of the float. Then plug in the air pump, push the 'On' button, and inflate it to the fullest. After the float is filled with air, close the inlet properly.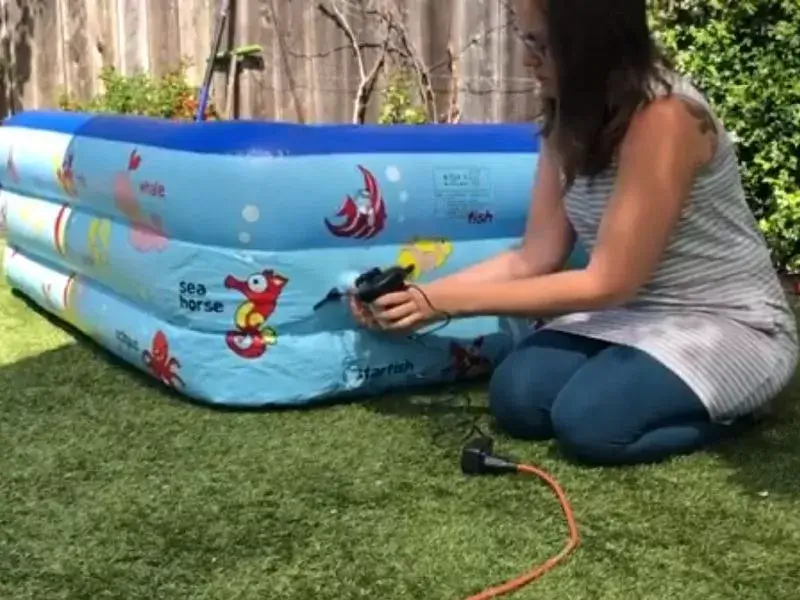 ii) Vacuum
If you do not own an electric air pump, you can use your home vacuum cleaner. Vacuum cleaners are very common equipment around households. A vacuum cleaner with the blow function comes in handy when you have a large pool to float. You can use its air pressure to blow all the pool toys without putting in any extra effort.
How To Inflate A Pool Float With A Vacuum?
Since you own a vacuum cleaner, I guess you know how to operate it. Here's how you can use one to float all the pool toys.
First, set your vacuum on the blow mode. Then lean its hose against the inlet valve of the inflatable item. Turn on the machine and fill the item until it is completely pumped. Make sure no air is leaking while doing so. Also, do not over-inflate the items. As the vacuum has a high air pressure, you must be careful to stop before it over-inflates any item.
iii) Air Compressor
Air compressors are generally useful for filling up cylinders. They can supply clean air at many different pressure levels. Portable air compressors can easily be carried away to the spot. This handy tool is somewhat common in households that own a car or a bike. It comes to great help to inflate a deflated tire.
Though using an air compressor is not a very common method to puff up the pool toys, it can be an easy solution for that. If an air compressor is available at your home and you are familiar with using it, you can pump up the floats with it. However, if you do not know how to operate the air compressor, it is better to take help from others or to follow other methods.
Filling up the pool toys with an air compressor is a super-fast process if you can find the right nozzle for it. The company provides different nozzle sizes with an air compressor. You need to pick the right that matches the inflatable's inlet valve.
How To Inflate Pool Toys With Air Compressors?
The step by step method to inflate the pool toys with an air compressor is described below-
Step 1: Set Up The Air Compressor To Inflate
First, find out the right nozzle for pumping the air. Pick a nozzle that fits snugly to the inlet valve of the inflatable. A snugly-fitted nozzle will fill up the toys in the shortest time, whereas a loose-fitting nozzle will increase the time and effort in double. Lend a hand if you need to hold the nozzle at the right place.
Step 2: Plug-In The Compressor
Keep the air pressure at a lower speed. Or the inflatable might burst out or blow away. Soon as you are ready to inflate the pool toys, plug in the compressor. Turn it on and inflate your pool toy until it is full. Then turn off the air compressor and close the inlet valve of the toy. Fill the toys up one by one. Close the inlet valves carefully and make sure no air is leaking. Now you can enjoy sunbathing with your inflated pool toys.
If you do not have other options available, you can go with this method. However, do not buy an air compressor just to inflate the toys; rather, buying an electric pump is a far more wise and cheaper option to choose if you ask.
Conclusion
We are glad to share these useful methods with you. Now that all the information you have to inflate the pool floats, it is time to pump those up and beat the summer heat in the pool with your family. Enjoy your summer holidays. Cheers!