Towable tubes are widely seen on beaches during the summer period. It is one common inflatable that people use for gliding on the water and have some recreation. Commercial towable tubes are a fun way to accommodate a group of people. Exploring the water in a fun way is made easier by such items.
The amusement might come to a halt if the tube loses air in between a ride. What will you do in such an occurrence? The best thing is to bring the towable ashore, re-pump it and get back to the water.
To make things easier for you, today we are going to talk about the best 12v towable tube inflator that can fill up inflatables in quick succession.
Top 3 pick
1. AGPtEK Portable Air Pump – A heavy-duty air pump for a wide range of inflatables. It is portable and can be used for indoor and outdoor activities. It is easy to use and saves time. One of the best products in the market.
2. Jasonwell Electric Inflator Deflator Pump – This is a high-volume pump right out of the box. It is also lightweight, can be carried anywhere and packs a mighty punch when it comes to pumping air. You will be allowed to fill most inflatable products with this item.
3. Etekcity EAP1-RC Rechargeable Electric Pump – One of the finest rechargeable pumps out there in the market. It is compact, super fast and easy to use. Can be used in a wide range of applications. It is speedy and saves time for you to enjoy your recreational activities.
AGPtEK – Best 12v Electric Pump For Towable Tubes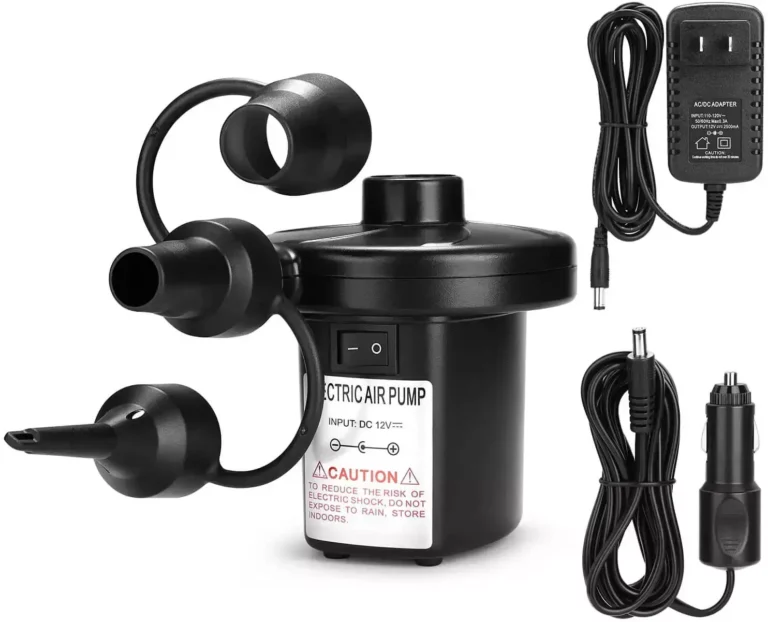 This is an air pump that stands out from the lot. AGPTEK portable pump is one extremely powerful machine that can work like magic. This is not just an inflator, it can effectively take out the air and compress the tube within minutes. This unit is so versatile that you can use it in different conditions.
Suppose you are indoor and need to fill up toys, inflatable furniture, air beds, etc. This product has an adapter to plug into your home outlet. For outdoor activities, it comes with a car power adapter as well.
It is compatible with 110-120v AC and 12V DC power supply. It comes with a 1.8m chord which has a good reach. The pressure from this pump is recommendable, it has 3500 pa maximum power which is sufficient to blow up large inflatables in minutes.
There are 3 different nozzles with it. Small, medium and large for multiple purposes. Fill up smaller toys, pool rings with the small nozzle and similarly, the larger outlet can be used for mattresses, etc.
Another good thing about the AGPTEK pump is that it is very lightweight, thus it is easier to carry around no matter the destination. Being portable you can store it easily as well. We love this product for its overall functionality and ease of use.
Jasonwell – Best 12v Tube Inflator And Deflator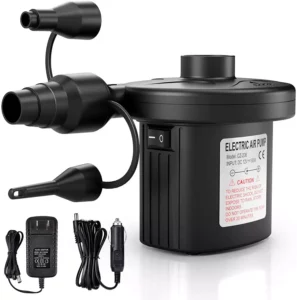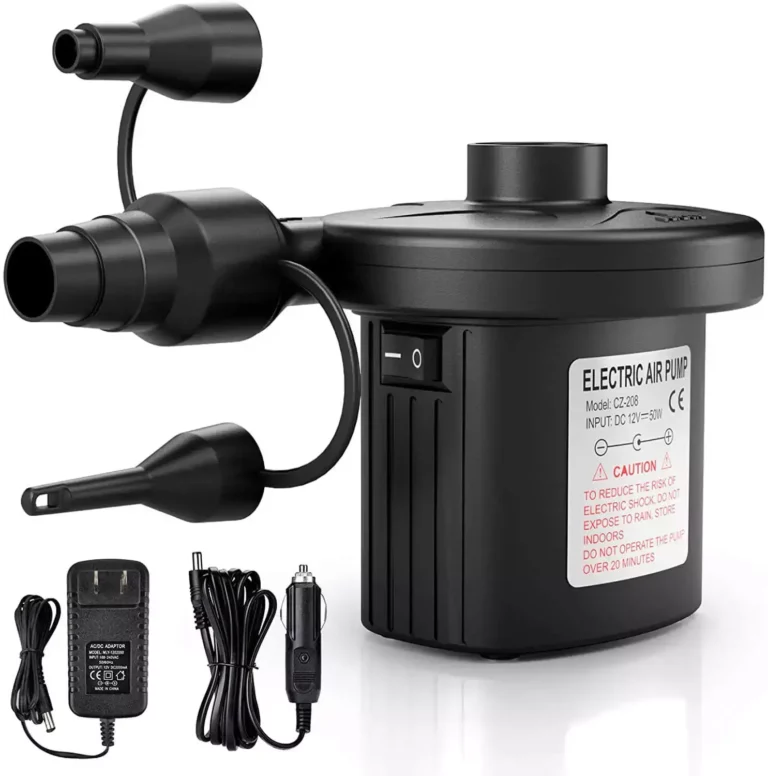 This Jasonwell product is undoubtedly a superior air pump that you will find in the market. We tend to compare our instruments for the betterment, don't we? Well, if you purchase the Jasonwell electric pump, you will get all the positives features stacked in one item if compared to other machines.
You get three interconnecting nozzles with this air pump. It is suitable for most valves of varying sizes rather than just 3 particular sizes. The body construction is made of environmentally friendly materials which is a plus point if you care about the environment. The plugs with this item come with a fuse, therefore it is much safer when connected. You will be safe from any sort of mishaps such as short circuits.
The best thing about it is that it has high volume airflow and high pressure when it comes to functionality. You can work smaller inflatables to larger beds in very little time. The size and fit of this product are well within reach. That being said, it is lightweight and easily fits the palm of your hand. You can carry it anywhere and store and use it conveniently whenever needed.
Talk about power, this air pump boasts powerful attributes and is amongst one of the best 12v towable tube inflators. Doesn't matter if it's an inflating or deflating task, it can handle everything just fine. You can use it to blow up vacuum bags, pools, toys, mattresses, towable tubes and many more items.
Etekcity EAP1-RC – Best Rechargeable Air Pumps For Inflatables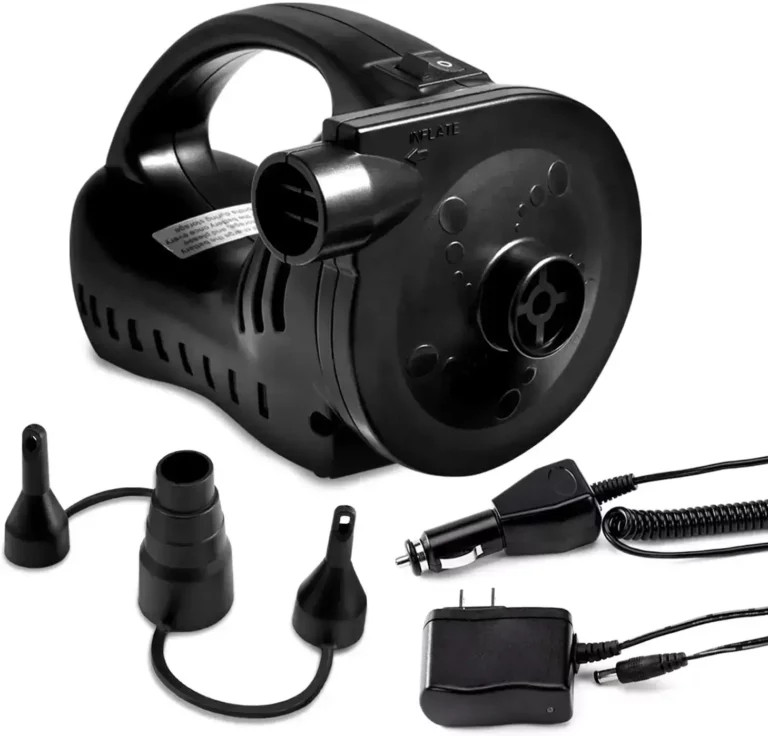 For quicker inflation and deflation you have to try out the Etekcity EAP1-RC rechargeable air pump. The two-way charging method is one of the finest features, it can be charged via wall outlet for car outlets.
The inflation and deflation ports are there to do the filling and extinguishing air precisely. There are three different nozzles for a wide variety of inflatables. The cordless feature allows you to carry it anywhere you prefer. The travel-friendly dimension makes it a very portable machine.
The battery function is reliably quiet when it's in full use. It is a high-performance tool that has a longer battery life to serve you long. The super-speedy motor gives you the power to work on a wide array of inflatables like sofa, pool, stress, towable tubes, toys and much more.
Make your luggage packing more fun by using it on vacuum bags. Fast airflow will let you inflate the towable in no time so that you can enjoy the water splash with your pals. Save time and enjoy every bit of the water ride with the help of this wonderful product.
Sweet Alice – Best Portable Quick Fill Air Pump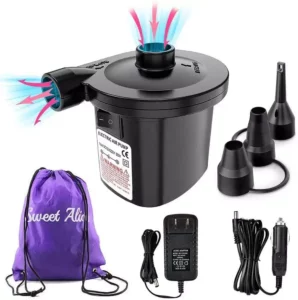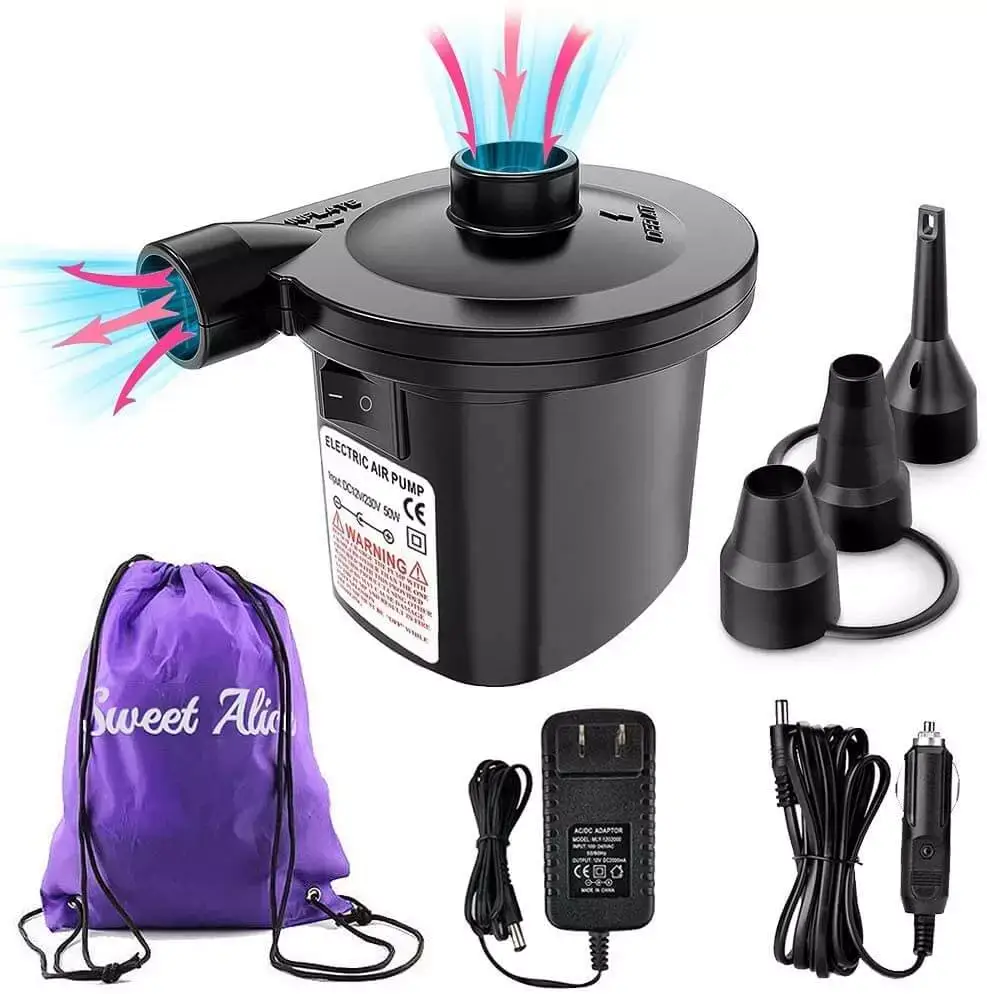 For an inflator and deflator pump, the Sweet Alice model is a high-quality item that you can purchase. It comes at a reasonable price and does wonders with your towable tube. It is a hard-wearing pump that is very powerful. It works on most of the inflatable items you can name.
It comes with 2 in 1 adapter option. So if you need to work indoors you can use the 100-240V outlet. Working outdoors is made easier with the 12V output. It is an ideal product for home and outdoor use.
You will get 3 different nozzles with it, making it easier to pump a wide array of inflatables like an air mattress, inflatable rafts, towable tubes, pool rings, kids toys, etc. The dimension and weight of this product is one fine feature you don't want to miss out on. Everything makes this unit a portable and lightweight instrument right out of the box. You will get a carry bag while you purchase this item. It gives you the flexibility to take it anywhere you go.
You don't have to worry about compressing the tubes anymore. There is a deflator outlet that will help you to store your inflatables very quickly. The noise reduction design keeps your ear at ease. The motor function is super fast to work and makes less noise so that you can work in peace.
KERUITA – Best 12v Towable Tube Pump With Hose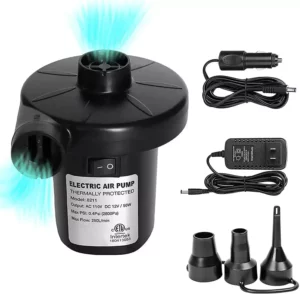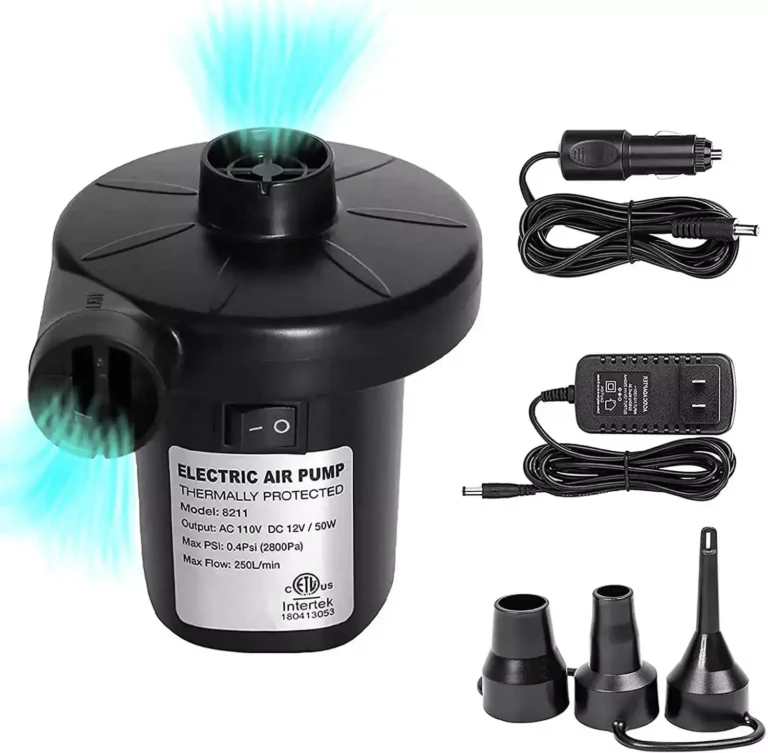 With 2800 Pa of max pressure, this air pump is one of the decent products out in the store. You will be able to pump in a queen size mattress within minutes, way faster than other available air pumps.
You can simply connect this versatile machine to your household outlet as it supports 110V AC. You can also take it on outdoor voyages and use the 12V outlet in your car. It comes with an extra-long cable which is convenient for your usage. This air pump can handle everything with ease. Ranging from inflatable furniture, towable tubes, inflatable pool, swimming ring, air beds, etc.
It doesn't overheat because it has a heat emission port for safety. There is a deflate feature that helps to suck out the air whenever you need it. Within 3 minutes you can pump a large mattress into shape. It takes less than a minute to work on small pool floats.
The sleek compact design is what you will love to utilize. You can carry it anywhere and store it easily. There are three different nozzle options for compatibility with different items. Beat the summer heat and get your towable tube at work with this top-notch pump by KERUITA.
ONG NAMO – Best 12V High Volume Air Pump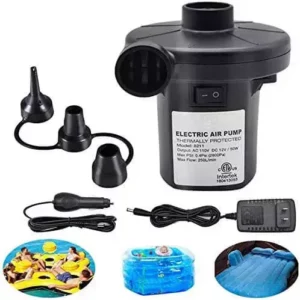 The ONG NAMO electric pump is amongst the most efficient pumps out there in the market. It can be used with a 120V home outlet and 12V car outlet, making it a versatile option when it comes to air pumps.
The maximum pressure of 2800 Pa is suitable enough to fill inflatables like rafts, pool rings, mattresses, air beds, towable tubes and much more. A well-suited machine for home and outdoor use. With a compact smaller dimension, you can carry this unit anywhere you go.
Store it with ease and use it on the go anytime you need to inflate or deflate something. You have seen it right, the deflation feature lets all the air out of the inflatable tubes. The three different nozzle shapes will allow you to pump various items of different shapes and sizes.
This is one extremely efficient fast pump that comes at a good price and you don't want to miss out on it. With hefty power and pressure, you don't need to worry about the functionality anymore. Just grab this item and let it work magic.
Make life easy and convenient by trusting one of the best 12v towable tube inflators. Keep in mind, this product should not be used to fill needle valve balls, balloons or yoga balls.
Buying guide
Before you plan to buy the best 12V towable tube inflator, you must always consider some of the basic factors. By doing so you will get the best quality product, so let us take a look at what needs to be taken into account.
Compatibility
Inflatable items have varying ports and fittings, therefore you must purchase an air pump that is compatible with the items. You have to look for the output modes, which is super important. If you use it outdoors your pump must have a DC outlet and for indoor use, an AC outlet is required. Having different shapes and sizes of nozzles is always compatible with ranging inflatable items.
Ease of Use
Air pumps must be lightweight and portable so that they can be carried around easily. You don't want to be using a heavy instrument while you are partying in the backyard. Check for the length of the chords, the longer the reach, the easier it is for you to plug the pump and inflatable.
Types of Pump
There are electrical models like we have mentioned in this article. You can also find manual air pumps. But they require more effort when it comes to filling up an inflatable. Battery-powered rechargeable products are also available if you plan to buy something more portable and flexible. Electric pumps are faster and more efficient in terms of functionality. Check out our review section, we have mentioned 6 quality pumps for you.
Pressure Rating
You should buy a pump that has enough pressure to fill up any inflatables. Larger items will require more pressure to inflate, while smaller items require less pressure. It is better to get something that has substantial maximum pressure like the AGPTEK pump which has 3500 PA. It can work with all kinds of inflatable items.
Air Flow
The higher the CFM rating the faster it will fill up the tubes. You should look for high airflow pumps to make things easier for you. Once you get a faster pump that flows fast, you won't have to wait for ages to get your work done.
FAQ
How to inflate a towable tube with an air compressor?
First of all, you will need the correct nozzle attachments to fit the air inlet of the pool. Compressors come with some sort of attachments, you might have to replace them to fit into the tube. Once the air hose fits well with the valve, start filling the air and keep checking it constantly for perfect air fitting.
How do you pump a towable tube?
Towable tubes are best filled with 12v Electric pumps. The very first step is to cement your valve properly on the tube, keeping a tighter fit. Step two is to insert the nozzle into place. If you are indoor, connect it to the AC output, if outdoors connect it to the DC car output. Step 3 is to fill the tube firmly. Make sure it slightly compresses then you stand on it placed on dry land. Make sure the compression is not too much. There you go, if you've followed the steps you are good to go.
How much should I inflate a towable tube?
If you can measure the pressure in a properly filled tube, it should be just around 2 PSI. If you are in a hurry, you should always fill the tube until it is firm. A firm tube but make sure there is little compression when you stand on the tube. If you've achieved this state, your towable tube is perfectly inflated.
Final Verdict
12V inflators are the best option if you are looking to pump up your towable tube. When you are outdoors, you have to pick the best 12v towable tube inflator to perfectly fill the linings with air. Reading through this article will give you a clear idea of the top-notch products available in the market.
If you look at our top 3 items, the AGPTEK or JASONWELL air pumps are some of the finest air pumps you will find. We recommend you check all the reviewed items for your convenience. We have picked all the deserving products and assure you good service. Filling up towable tubes, pools, toys, boats, mattresses, etc are made easier with these 12V air pumps.