Inflating Your Air Mattress With Pumps
Usually, when you inflate your air mattress, you need a pump to air-fill your mattress. This is one of the effective ways of inflating your mattress. But all this pumping air and all can get a bit hectic, significantly when you are inflating your mattress outside your home.
Although, there are quite a few ways by which you can inflate your air mattress. So below is a small chart to help you out with a summary of the ways you can pump your air mattress and also the pumps' performance.
| | |
| --- | --- |
| PUMP | PERFORMANCE |
| An electric pump that includes an outlets | The quickest and most effective |
| Battery-powered pump | It's the best option, especially when you don't have any electrical support |
| Generator or battery | It's pretty effective, but you need to carry them wherever you go. |
| Manual operating pump | Not very effective and can be time-consuming |
Although, the most effective way of inflating your air mattress is by using an electric pump. And there are quite a few ways by which you can raise your air mattress with the help of an electric pump. All these are explained elaborately in the section below.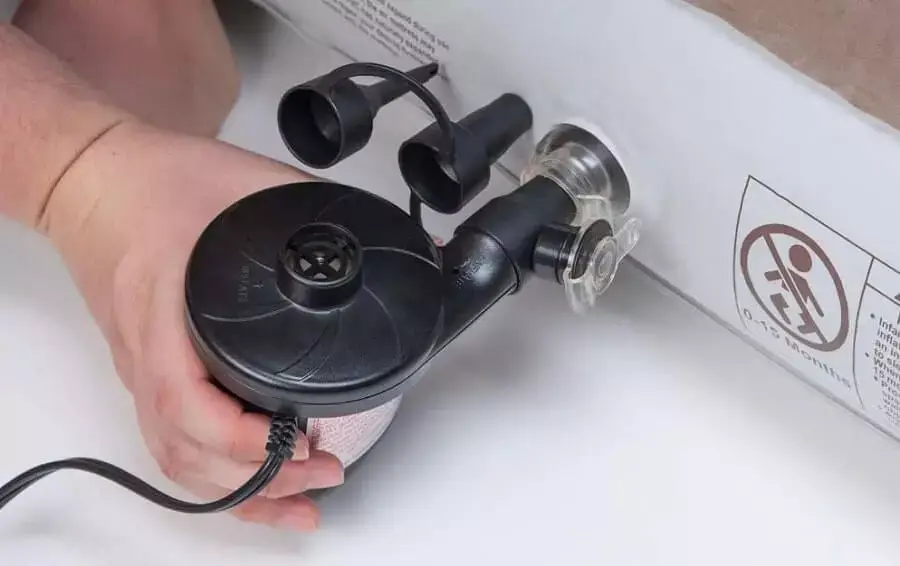 Inflating Air Mattress Using Electric Pumps
You'll find many options, especially when you are using electrical pumps to inflate your air mattress. Now, in this section of the article, you'll see in detail the ways you can operate electric pumps for your air mattress.
Inflating by Using Your Car and 12V Electric Pump
The 12V DC plug that you see in your car was designed for the car's cigarette lighter. Moreover, this is the best option for you, especially during van camping. And also, these are very easy to use.
But do make sure that the plugs are connected with your vehicle so that you can inflate your air mattress. Although most of the air pumps you use don't really need to keep your car running, you might want it to stay running. Just think it like this, would it have been possible for you to charge your phone without you keeping your car's engine on.
Inflating your air mattress with car batteries can indeed put a considerable amount of pressure on your car, especially when your engine or batteries are old.
Inflating by Using an AC Electric Pump With a DC Inverter
If you already have a standard attached plug-in air pump with your mattress, then you don't actually have to bother purchasing a special AC pump. Instead, you can always go for a DC inverter.
The section below will cover all the technical characteristics of how this inverter works and how it can allow you to use it just like a 12V AC pump.
What does an Inverter Do?
An inverter will always take in the AC power and stop the oscillation of the electrons. This will eventually strengthen the power, which will then turn into a DC power. Once converted to DC power, you can easily use your car's lighter to make the entire procedure work.
Sounds a bit complicated, right? Let's make it simple. An inverter changes the power which is coming from your car, and the air pump can use that power to inflate your mattress.
In this case, you'll always want to keep your car's engine running, especially when your pump is running. This is because this inverter is going to take in more power than a simple 12V DC pump.
Inflate Camping Air Mattress With Your Car and 12V Electric Air Pump
If you are thinking of inflating your air mattress indoors, then it actually won't be a trouble at all. But the only challenge you might face is the space it requires to fit in. That's why air mattresses are so compatible, especially outdoors, as it gets a lot of open space to spread out.
Especially when you are going camping, these air mattresses will indeed come in handy. But do make sure that you have an average-sized tent door so that you can easily fit them inside your tents.
Now, after you've successfully fit your mattress inside your tent, you have to inflate it. Here, you'll see the detailed procedure by which you can extend the mattress using your car and 12V electric air pump.
Step-1: Spread your mattress evenly and make sure that you have placed it in your desired position.
Step-2: Start the inflating procedure using your 12V electric air pump and make sure that you keep your car running. This is because the pump is going to need sufficient power to do the inflating.
Step-3: If you want, you can now take the air mattress to any place you find fit and enjoy the moment.
These few simple steps can quickly help you to make the most comfortable air mattress of all time.
Inflate Air Mattress Using Battery-Operated Electric Pump
In my opinion, battery-operated pumps can surely be one of the most compatible and quick-to-use pumps of all time. You can purchase a couple of batteries for your electric air pump, and you can efficiently pump your air mattress.
Although this option has some shortcomings, it might not always be the best option to inflate your mattress as these can run out of energy anytime. Therefore, do make sure you take the excellent quality battery brands and also have some extra in your backpack so that your pump can be operated to inflate the mattress.
Inflate Air Mattress Using Plug-in Pump
These are found in those standard air mattresses that you keep inside your home to plug the pump into the sockets on your walls quickly. But these kinds of pumps are not suitable if you are willing to stay the night in the woods for camping. This is because you won't have any electrical inputs to plug in your pump.
Unless you take a battery pack or a generator with you so that you can plug in your pump and refill your camping mattress.
Why Use a Battery Power for Electric Pump?
Most of you have used power banks to charge your phones. Similarly, these battery packs are just like the power banks for setting your battery-powered air pump so that it can be used for your inflatable air mattress.
Here are a few reasons why battery packs can be used to charge your electric air pump.
You can use this battery pack for various purposes, especially when you are not using them to charge your electric pump.
These can come in handy mainly when you use a plug-in pump or even use it to recharge your battery-powered pump.
Some of these battery packs even have solar charging options. So, you don't have to worry whether it'll go out of energy or power.
These are comparatively very cheap. So, you can easily purchase them without any hesitation.
However, if you are going for extended camping, you should want to take a generator with you. By doing this, you'll get a lot of energy backup for a more extended period of time for your electric pump. Therefore, you don't have to worry about powering up your electric pump.
So, in what ways can this generator be helpful to you?
You can use this generator to charge many other electronics
You can easily refill your inflatable mattress without even worrying about your batteries running out
Even there are such generators that can be charged with solar power
In my opinion, the generator is one of the most convenient options compared to the battery.
Final Thoughts
There are many kinds of options you can pick to inflate your air mattress. But the most effective way of inflating air mattresses is by using electric pumps of various types. When you are going camping or another outdoor trip where you might need to refill and inflate your mattresses, make sure that you carry an authentic and well-supporting battery pack or generator so that if things go south, you have a backup plan to power up your electric air pump.
I hope this article will help you know all the ins and outs of inflating your air mattress with an electric pump.