Bring out your towable tubes to get the ultimate fun of water rides this summer! Tie them behind the boat and start riding. It's fun and does not require professional skills like surfing. But you'll be needing an air pump to inflate the towable tubes. To get the ultimate riding experience, you need to inflate the tubes properly at a certain level where it's not underinflated or overinflated. Air pumps are probably the best solution to inflate the inflatables, whether a towable tube, mattress, SUP board, inflatable pool, or kids toys. Hence, we listed the six best air pumps for towable tubes. But these could be used to inflate other items as well. So, let's jump into the review.
Review of the Best Air Pump for Towable Tubes
Here is a detailed review of the best air pump for towable tubes with their pros and cons-
Our first pick is from Airhead. It's a 120v air pump that can be used at home using a power socket. However, it has an additional power adapter that can be used with a 12v DC socket. You can use it when you're outside and need to inflate something using your car's adapter. This air pump features three universal nozzles to fit different items. Additionally, the carry handle makes it easy to transport and inflate the tubes. It's an incredible inflator that doesn't produce excess noise like other air pumps or heats up quickly.
When it would take you an hour to pump up a towable with a manual air pump, you can save time and energy using this air pump. However, this multipurpose air pump can also be used for deflating the inflated items. Besides the towable tubes, you can inflate the inflatable rowboats, dinghies, lounger floats, and many more. Also, you can inflate air mattresses, pools, toys, etc. with this canister-style inflator.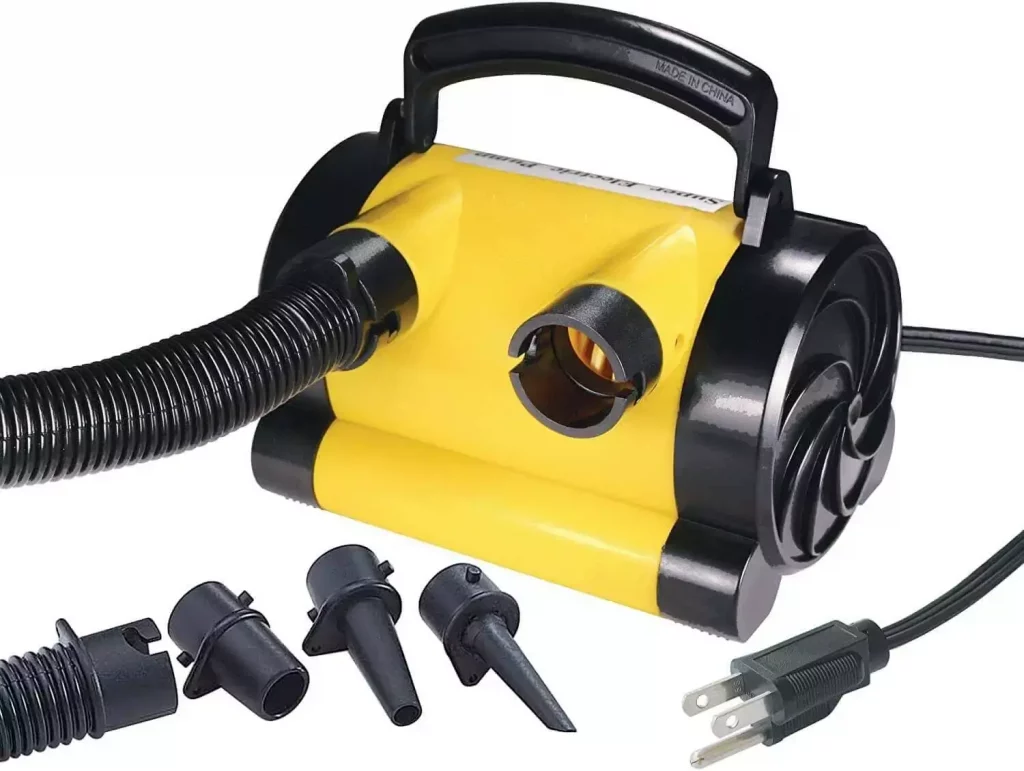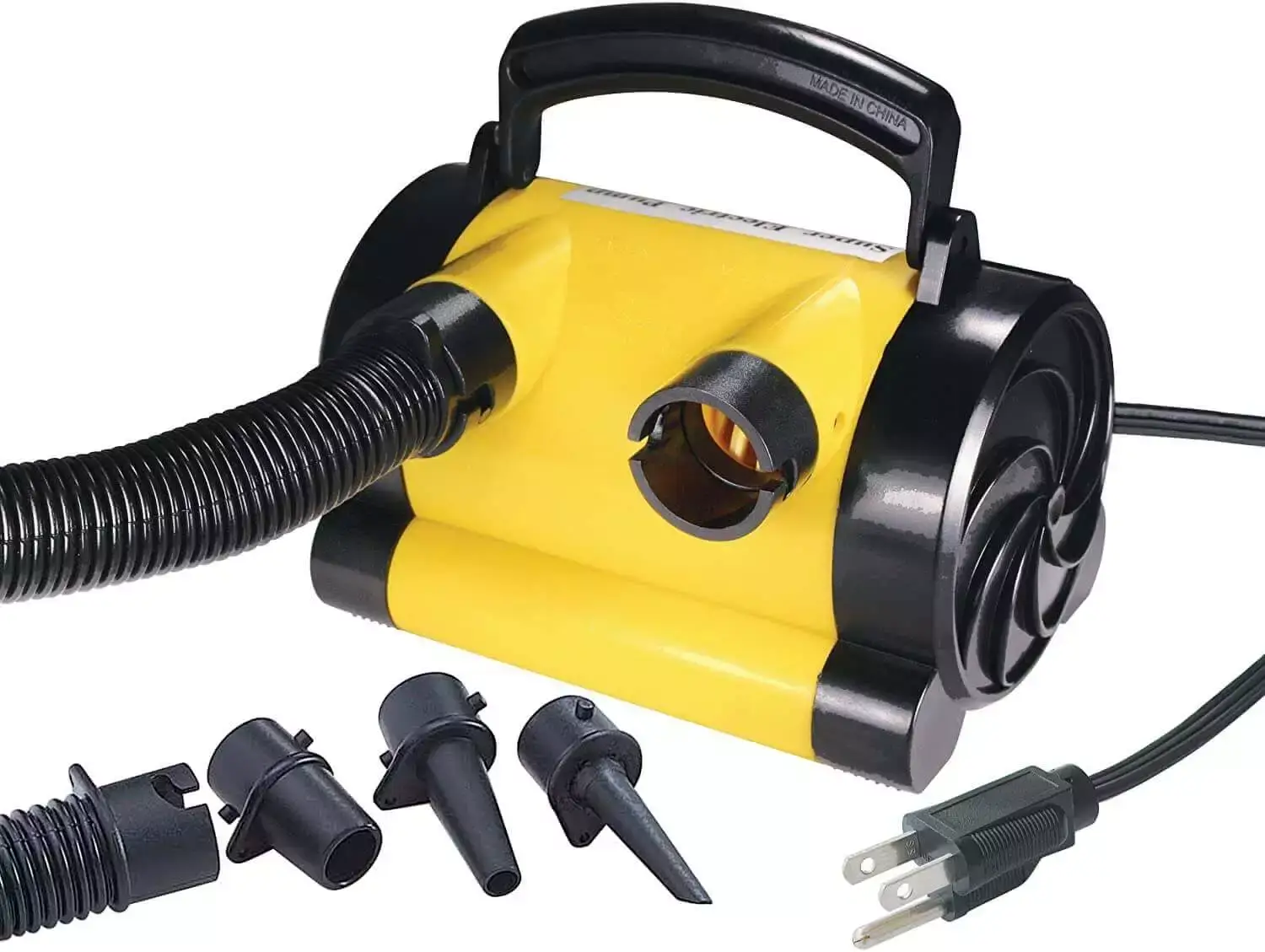 Features
Brand: Airhead
Item Weight: 1 Pounds
Item Dimension (LxWxH ): 8 x 8 x 6 inches
Color: Yellow/Black
WHY IS THIS A TOP PICK?
The reason that we have chosen this is: Besides being a noise-free inflator, it pumps air quickly, has a ten-foot-long power cord, and can deflate as well. It overall serves its purpose.
Our second pick is from Wow Sports. It's a fast-filling pump that inflates the towable tubes quickly. Additionally, it sucks the air out from the towable tubes pretty fast as well. It can pump up to 3.0 PSI which extends most other air pumps. However, the pump barely makes any noise during its operation. It comes with five universal valve adapters for optimum use. This air pump comes with a twelve feet power cord. The valve locking system enables the pump to inflate a towable, preventing disconnection when under high pressure.
This device can plug into cars, boats, and RVs to inflate the towable tubes, toys, air beds, and other inflatables. It can load 450 liters of air with a 1.0 PSI DC pump. This multipurpose tool can pump up different inflatables using its three universal valve adapters. Its extended power cord can help to use it outdoors using a DC adapter. The producer provides a one-year warranty with this air pump.
WHY IS THIS A TOP PICK?
This air pump supplies a high volume pressure flow that enables fast inflation and deflation. Additionally, five different valve adapters with a locking system provide optimum service out of this air pump.
The third air pump on our list is the Index double-quick fourteen-inch hand pump. This hand pump is useful to inflate towable without the need to use any electricity. This hand pump features three interconnecting nozzles of different sizes to inflate various inflatable objects. The nozzles are engaged with a hose through which the air is passed. The manufacturer demands that it can pump about 2.8 liters of air per up and down cycle.
The pump can inflate things with double stroke capacity when you stroke the pump both upward and downward. Therefore, the towable can inflate faster than other manual pumps. This simple hand pump is super easy to operate and requires no prior experience or skills. It's a high-output air pump that makes your inflating job fast and easy. It can deflate the inflatables by interchanging the nozzles from the discharge side to the intake side.
WHY IS THIS A TOP PICK?
We have picked this hand pump as a replacement for the electric inflator. In case you don't have access to electricity, this manual hand pump can replace an electric air pump. And it's a better option than a downstroke hand pump as it can inflate an object two times faster with the upstroke and downstroke capability.
Sanipoe– Inflator Deflator Portable Electric Air Pump
The fourth pick is from Sanipoe. This electric air pump features an AC/DC connecting option. You can use a standard home socket or your car's cigarette port to connect the air pump. This portable air pump can both inflate and deflate. It is very comfortable to operate and doesn't require any special skill.
Three different nozzle sizes are compatible to be used with different inflatables. The long and narrow nozzle is helpful to pump the small toys. The medium nozzle is compatible with pumping the air bed, sofa, pool, etc. And the large nozzle can be used for pumping the air mattress, inflatable boats, kayaks, or other floating items.
With this air pump, you can inflate and deflate an airbed, air mattress, inflatable sofa, boat, towable tube, pool, and many other items. However, it's not suitable for high-pressure operations like- balloons, tires, or basketballs. We recommend not to use it for more than twenty minutes continuously. Otherwise, it may heat up and stop working altogether.
Features
Brand: Sanipoe
Material: Acrylonitrile Butadiene Styrene
Item Weight: 0.6 Pounds
Item Dimension (LxWxH): 3.93 x 4.5 x 4.6 inches
Color: Black
WHY IS THIS A TOP PICK?
This small and portable air pump provides the output you generally look forward to from an electric air pump. It's easy to use and is compatible with AC and DC plugging options.
AIRHEAD– High Volume Bellows Foot Air Pump
Our fifth pick is also from Airhead. However, it's a foot pump. It works like a bellows.  The foot pump features bellow that is made with canvas which is collapsible and can easily be stored in a narrow space like under your boat seat. This lightweight air pump weighs only 0.98 kg. So, you can carry it around when you go camping or for water riding. It features 2.9 PSI and can inflate large and small inflatables, including kayaks, towable tubes, and floatable boats.
A 54" long accordion hose comes with this air pump which is flexible and helps pass the air without any barrier. But you need to ensure that the tube is in full shape to pass the air correctly. If the passage is blocked or somehow smashed, the foot pump will not work as it should. And on the tip of the hose, there are three nozzles with universal adapters, including stem and Boston, that fit every type of inflatable. However, it produces a little noise, but that shouldn't bother you as it does its job perfectly.
Features
Brand: Airhead
Material: Aluminum
Item Weight: 2.14 Pounds
Item Dimension (LxWxH): 0.24 x 0.08 x 0.07 inches
Color: Yellow/black
WHY IS THIS A TOP PICK?
We have included this manual operating foot pump in our top inflator list so that the people who don't want to tire up their hands can use it. This easy-functioning, fast-pumping tool can save your time and effort.
Sweet Alice– Best Quick-fill Air Pump
Our sixth and last pick is the Sweet Alice electric air pump. The air pump features a two-in-one power adapter that can be connected with a standard 110-120v home socket or 12v DC car power adapter if you're traveling. It's a quick-fill, high-pressure air pump that also has the capability to inflate and deflate. You'll get this set in a carryable bag which is travel-friendly, and the chance is less you'll lose any part of the air pump if it's kept inside the bag. This inflator has a compact design and will reduce the fatigue that can come from a manual pump.
Three different nozzle sizes are included so that you can use them for multiple purposes. The small one inflates kids' toys and inflatable toys. It can also suck air from vacuum compression bags. The medium one is compatible with inflating air beds, pools, rafts, etc. And the large nozzle inflates any high-volume inflatables like- kayaks, inflatable boats, towable tubes, bounce houses, etc. However, do not use it for high-pressure items, for example- tires or balloons.
WHY IS THIS A TOP PICK?
The Sweet Alice electric air pump is a portable, fast-filling air pump that can inflate and deflate the towable tubes in an instance. Therefore, we have picked this inflator in our top air pump list.
Buying Guide: How to Select An Air Pump for Towable Tubes?
You need to look for some specifications when buying the best air pump for towable tubes. As the market is full of countless products, this buying might help you get the right product according to your needs.
Compatibility
Most tubes can be inflated using a 110-120v electric pump or a 12v handpump. However, some electronic products have the compatibility to feature both options. Therefore, those are the most useful ones when considering the compatibility of the product.
Flow Rate
Towable tubes are low pressure, high volume inflatables. The pressure inside a completely inflated tube should have pressure around 2.0 PSI (pounds per square inch). Therefore, you don't need to buy a high-pressure air pump that is generally used to pump balloons, parachutes, and tires.
Portability
Unless you can't carry it with you, you won't be able to inflate the tow tube in the middle of the water. Also, it is rarely possible to blow up the towable at home and carry it all the way. Therefore, it would be better to choose a portable air pump to blow up the towable tubes.
Auto-stop
The best air pumps feature an auto-stop option so that when the towable reaches a specific pressure point, it stops blowing the air in and prevents excess air pressure inside the inflatable item. Besides this feature, it also features a display that shows the pressure inside the inflatable. However, this feature is a rare combination with a regular air pump, but the best one includes it.
Cable Length
Having a long cable length is always a bonus! So, check out the cable length of your air pump, whether it has enough length or not. Get one with sufficient cord length, and you won't regret it later.
Power Source
Air pumps can be electrical or manual. The electric air pumps should include both AC/DC features to be operated from standard home sockets and the car's DC port or cigarette lighter socket to use when traveling. These can also be found in rechargeable options.
FAQs
How to inflate a towable tube?
To inflate the towable tube, you'll need an air pump. You can use either a hand pump, foot pump, or electric air pump. Connect the air pump to the power socket or the 12v adaptor of your car's cigarette port. Then, turn the switch on and wait until the tube is firmly inflated. And then quickly close the lid of the tube to maintain a certain level of inflation. Improper inflation of a tow tube can harm it significantly. Too much or inadequate inflation can reduce the performance of the towable tube and can even lead to accidental situations.
How much air should be in a towable tube?
You should put that much air in the towable tube so that the tube doesn't have any wrinkles on it. And the tube shouldn't either be overinflated. It has to be inflated at a level that a person can stand on it, sinking only one to two inches inside.
Why does my tube go underwater?
Underinflation of a tow tube can be a reason that your tube is going underwater. On top of that, additional weight puts pressure on the tube, making the tube sink in the water and drag through it instead of being pulled over. The solution to this problem is to properly inflate the tow tube before jumping in the water and close the lid tightly so that it doesn't get loose and lose the gas.
How fast does a boat need to go to pull a tube?
The speed to pull a tube behind a boat may range between 8 mph (miles per hour) to 20 mph to maintain a comfortable ride on deep water. However, 20 mph would be too fast to pull a tube, resulting in a flying ride.
Final Words
It's essential to keep your towable tube in a shady area. Otherwise, the plastic component of the tube may expand if sitting under the sun for too long. And before using the tube again, make sure to inflate the tube at the right level. We hope you have got the right kind of air pump for your towable tube among the best inflators. However, if you still couldn't manage to get yourself something, let me help you. Airhead Kwik Tek is a reliable air pump with a long cord. Go for the Intex Double Quick III S if you're looking for a hand pump. And the AIRHEAD can do the job of a reliable foot pump when you are inflating various inflatables.