Manually pumping an inflatable pool seems like a nightmare to many. It ruins the fun mood altogether. So, an electric air pump is the best solution to inflate the inflatables, whether it is a mattress, pool, pool toys, SUP board, or kids toys. It makes life easier and saves time as well. But before you go and grab one of those below, make sure it has the right features according to your needs. Also, check out whether it can both inflate and deflate the item. An inflator-deflator air pump can be super helpful to deflate big items fast. So, let's get you the suitable inflator to pump up and jump in the pool.
Review of The Best Electric Air Pump For Inflatable Pool
Here is a detailed review of the best electric air pump for an inflatable pool with their pros and cons-
Artigarden- Best Inflator Deflator Air Pump For Inflatable Pools & Toys
Quick Summary
Our first pick is the Artigarden electric air pump. It's a product from Smart Plastic Manufacturing. The package includes an air pump, three universal nozzles, and a user manual. This versatile air pump is not only useful to pump up the inflatable pool, but it can inflate air mattresses, pool toys, rafts, and kids' toys as well. The temperature controller automatically shuts down when the heat reaches a certain level. We recommend not to use more than ten minutes continuously.
You can carry the pump around as it only weighs only 1.4 pounds. It's an inflator and a deflator. So, you can easily blow the inflatable pool up and deflate it as well. However, you cannot use it for blowing up balloons. It comes with a universal nozzle pattern of three different sizes. The nozzle sizes are- S, M, and L. This air pump is compatible with pumping up different items that require different nozzle sizes. This item has four different color options- black, brown, white, and blue.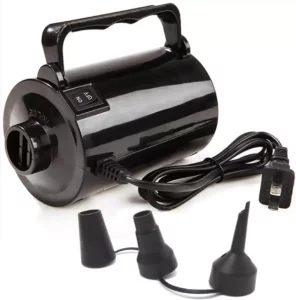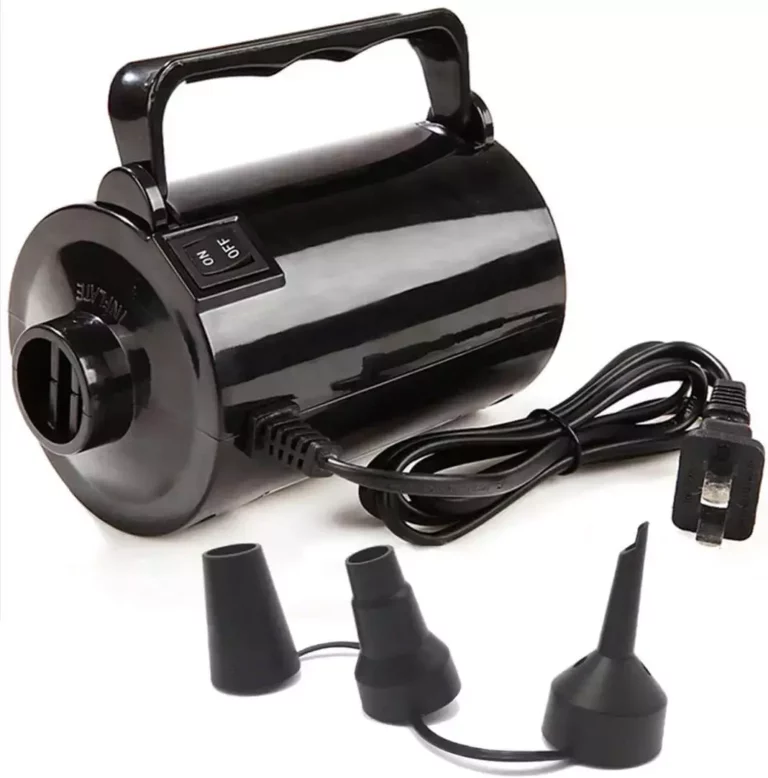 Features
Brand: Artigarden
Material: Plastic, copper
Rated Power: 320W
Voltage: 110V-120V / 60Hz
Item Weight: 1.4 Pounds
Item Dimension (LxWxH): 6.3 x 3.9 x 3.9 inches
WHY IS THIS A TOP PICK?
Due to its super high performance compared to the traditional hand pump, we have picked the Artigarden electric inflator on our list. It is probably one of the best quick-fill air pumps in the market.
AGPTEK- Best AC DC Electric Air Pump
Quick Summary
The second air pump on our list is from AGPTEK. Its high-performance battery can inflate and deflate items conveniently. Therefore, you get a two-in-one facility out of this product. Additionally, the car and home power adapters are provided with the air pump. Consequently, you can use it both indoors and outdoors. However, do not use it for balloons. The nozzles have small, medium, and large sizes to be used with different items. This easy-operating air pump is compatible with a 110-120v home power supply and 12v DC car power adapter.
This easy operating inflator requires no prior experience to operate. You need to put the head o0f the inflatable in the filling hole of the inflatables to pump it up. And to deflate, you need to put the head in the vent hole and then turn on the switch. It's that easy! It's a lightweight inflator, and the size is carriable. You can use it for inflating other items as well. The air bed, airboat, towable tubes, inflatable furniture, and toys are just a few examples.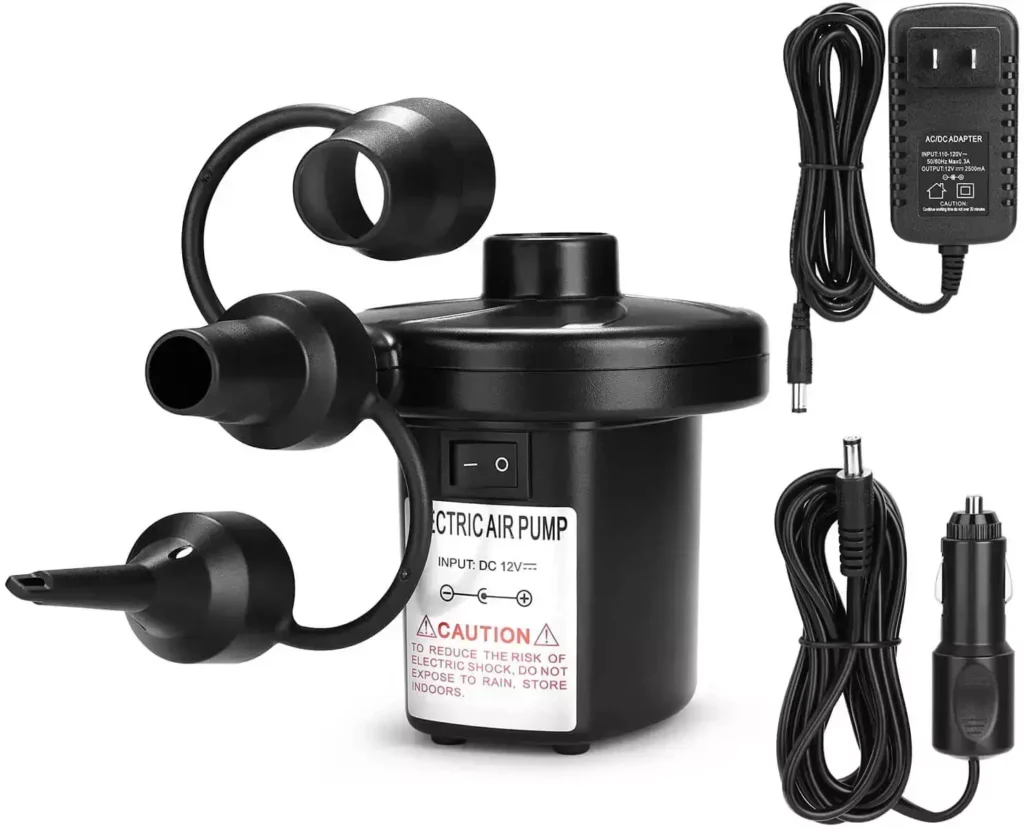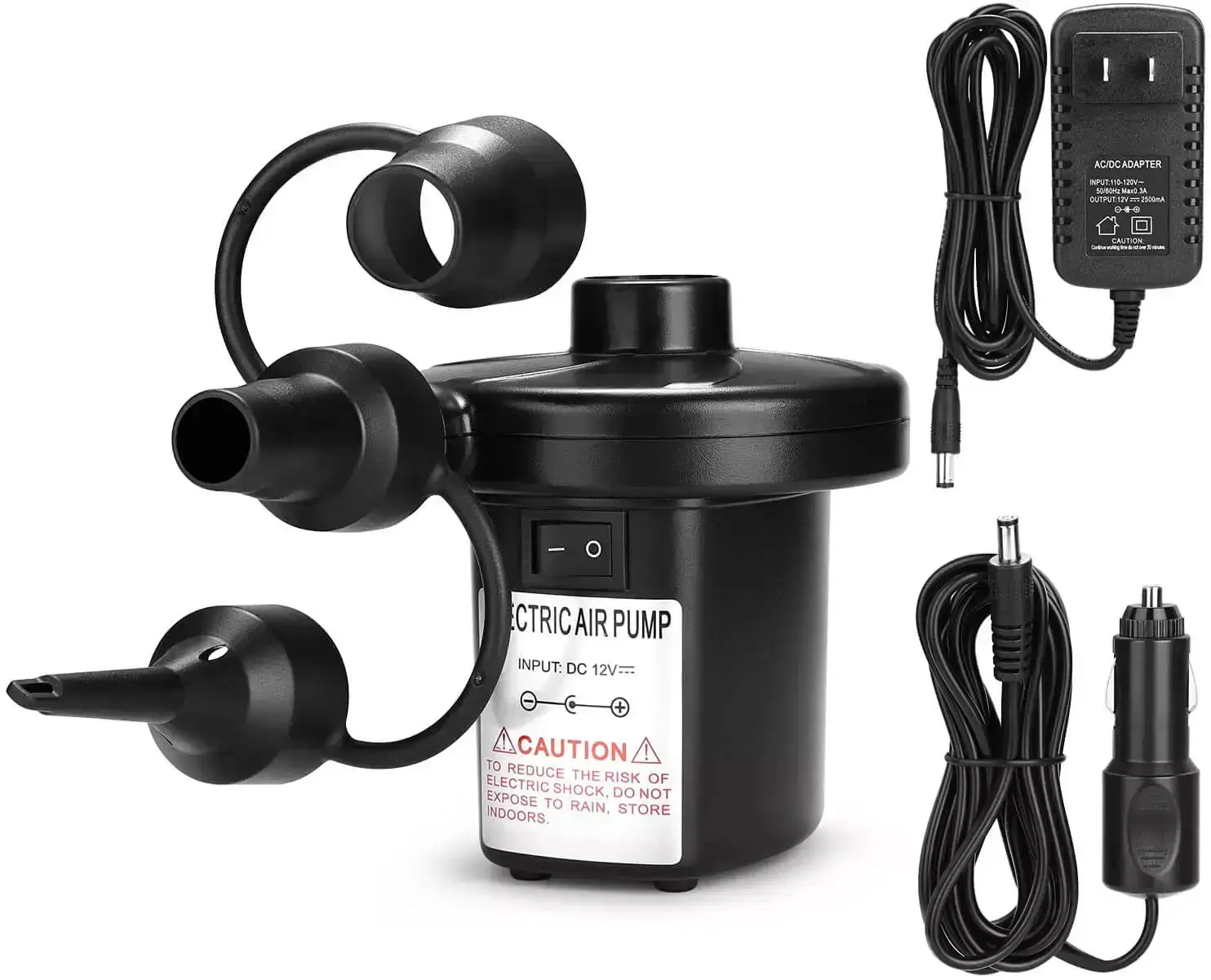 Features
Brand: AGPTEK
Power Source: Corded Electric
Home Adapter Cord Length: 5.9Ft / 180 cm
Car Adapter Cord Length: 8.2Ft / 250 cm
Color: Black
WHY IS THIS A TOP PICK?
It's a travel-friendly air pump with inflating and deflating features, making it stand out from the crowd.
Etekcity EAP1-RC- Best Rechargeable Air pump For Inflatables
Quick Summary
Three nozzle sizes include- 0.27"(small), 0.35"(medium), and 0.69"(large). This additional feature makes this air pump so convenient to pump different inflatables using one inflator. On top of it, the air pump deflates objects as well. So, it saves your time to inflate or deflate things when you're short on time.
Its NI-MH or nickel-metal hydride battery does not produce toxic gas or pollution. This environment-friendly air pump can be used for a long time by recharging the battery repeatedly. However, it doesn't make any noise when operating.
As it is a rechargeable device, you can recharge it at home and use it outside to avoid inconvenience. However, it has both an AC and DC power adapter. The cord length for the AC power adapter is 5.3 feet and for the DC power adapter is 4.6 feet. Therefore, you can plug it up in your car's cigarette plug when on the move. This portable inflator has multiple nozzle sizes as well as it is easy to operate.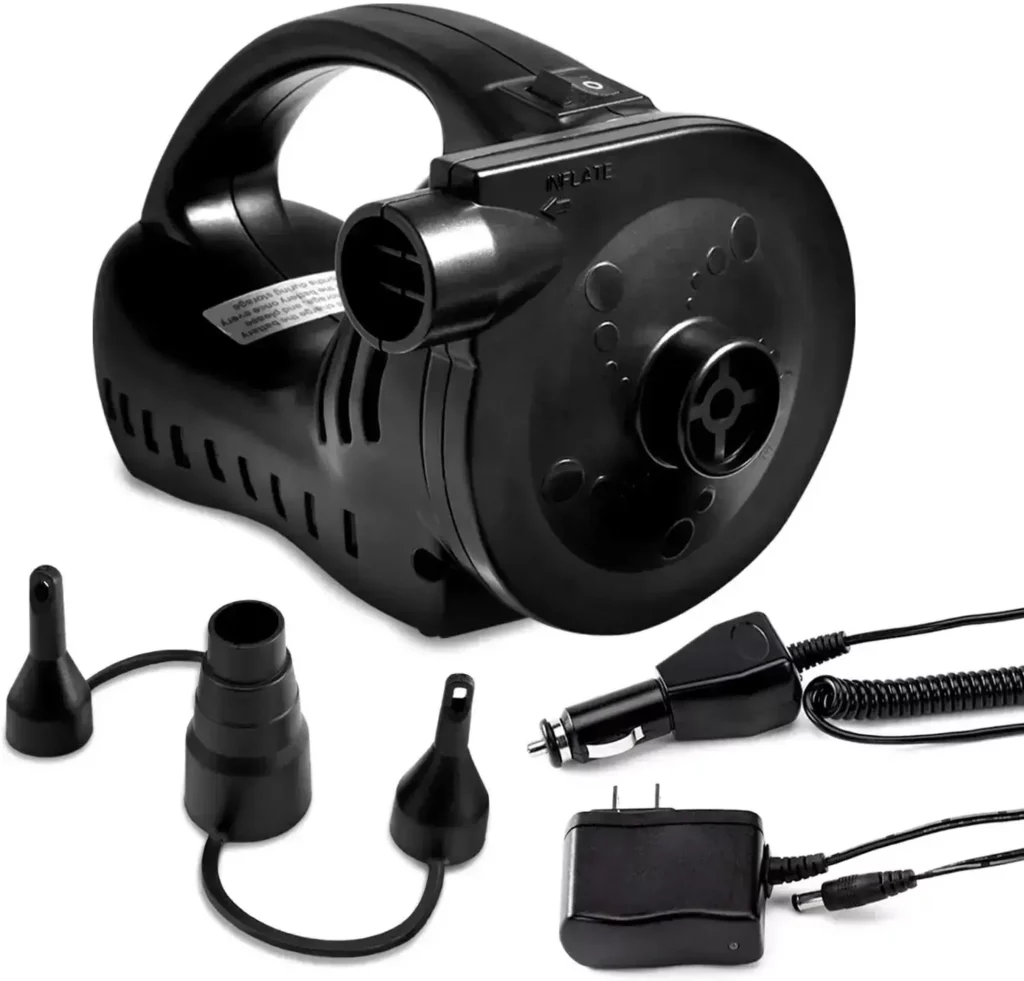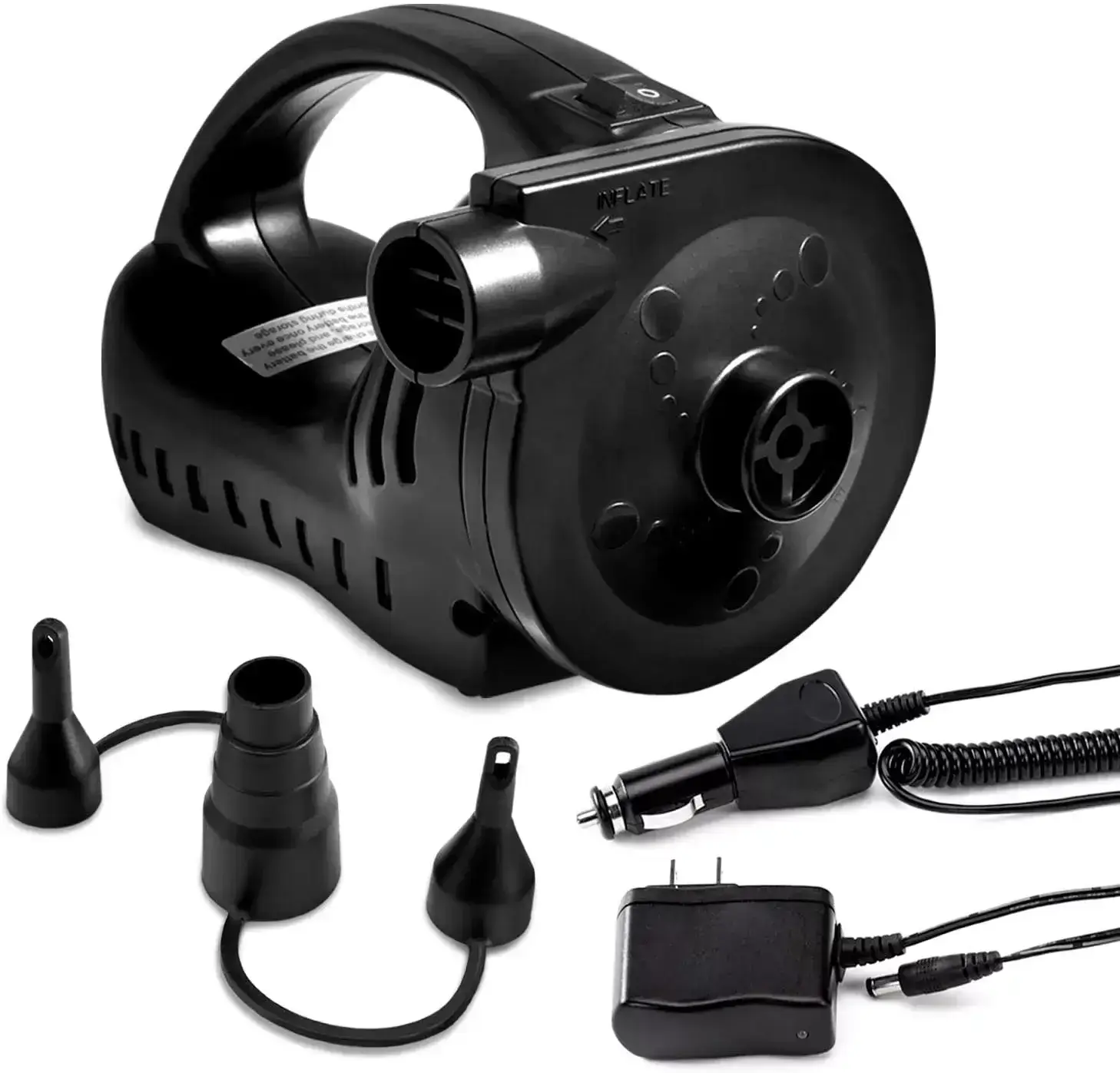 Features
Brand: Etekcity
Color: Black
Material: Acrylonitrile Butadiene Styrene/ ABS
Item Weight: 1.6 Pounds
Power Source: Battery Powered
WHY IS THIS A TOP PICK?
Its compact design, besides other features, makes it a great inflator among the pool of inflators out in the market.
AGPTEK- Best Small, Lightweight & Portable Electric Air Pump
Quick Summary
Our fourth is also from AGPTEK. The air pump comes with a powerful 4000mah Lithium-ion battery. So, do not stress about power backup. It can provide a power supply for up to twenty-five minutes. You can carry along this lightweight device. It comes with a USB port which makes the charging convenient in many ways. Also, this rechargeable air pump has a charge indicator that shows the charging state and power consumption.
A three-in-one nozzle setting is super convenient when it comes to pumping up different inflatables. The sizes are- 0.28"(small), 0.35"(medium), and 0.57"(large). The large one can inflate pools and mattresses, the middle one for seats and air beds, and the small nozzle for inflatable toys.
WHY IS THIS A TOP PICK?
You can consider it one of the best rechargeable air pumps for inflatables on the market. We have added this electric pump to our list because of its massive power capacity and other outstanding features.
ONG NAMO- Best Quick-fill Electric Air Pump
Quick Summary
Our fifth pick is from ONG NAMO. You can use this electric air pump both indoors and outdoors. It has a power requirement of 110v for home use and 12v for car lighter adapter usage. It has a small, portable, and user-friendly design.
Three different nozzle sizes are compatible with inflating different items. Additionally, this quick inflator pumps up and deflates pretty quickly. You can use it for pumping up air beds, mattresses, kayaks, and even kids' toys. However, don't use it for high-pressure requirements, like- basketball, balloon, tire, etc.
Features
Brand: ONG NAMO
Color: Black
Material: Plastic
Power Source: Corded Electric
Operation Mode: Manual
WHY IS THIS A TOP PICK?
You included this product in our best electric air pump list for its fast inflating capacity in addition to other excellent features.
BOMPOW- Best High Volume Electric Air Pump For Inflatables
Quick Summary
Our last electric air pump is from BOMPOW. This pump is made from ABS or acrylonitrile butadiene styrene, enabling the finished product to be durable over the years. It is compatible indoors and outdoors, provided with a cord length of 5.9 feet featuring an air pressure of 0.4 PSI or pounds per square inch. This air pump can inflate a queen size air mat within a few minutes. Therefore, it is much faster than a hand pump.
This air pump features three detachable nozzles, which enable you to use different inflatables. This handy, compact air pump is easily carryable and noise-free. This pump can both inflate and deflate items. Therefore, you won't have to deflate the pool manually anymore, which is time-saving and comforting.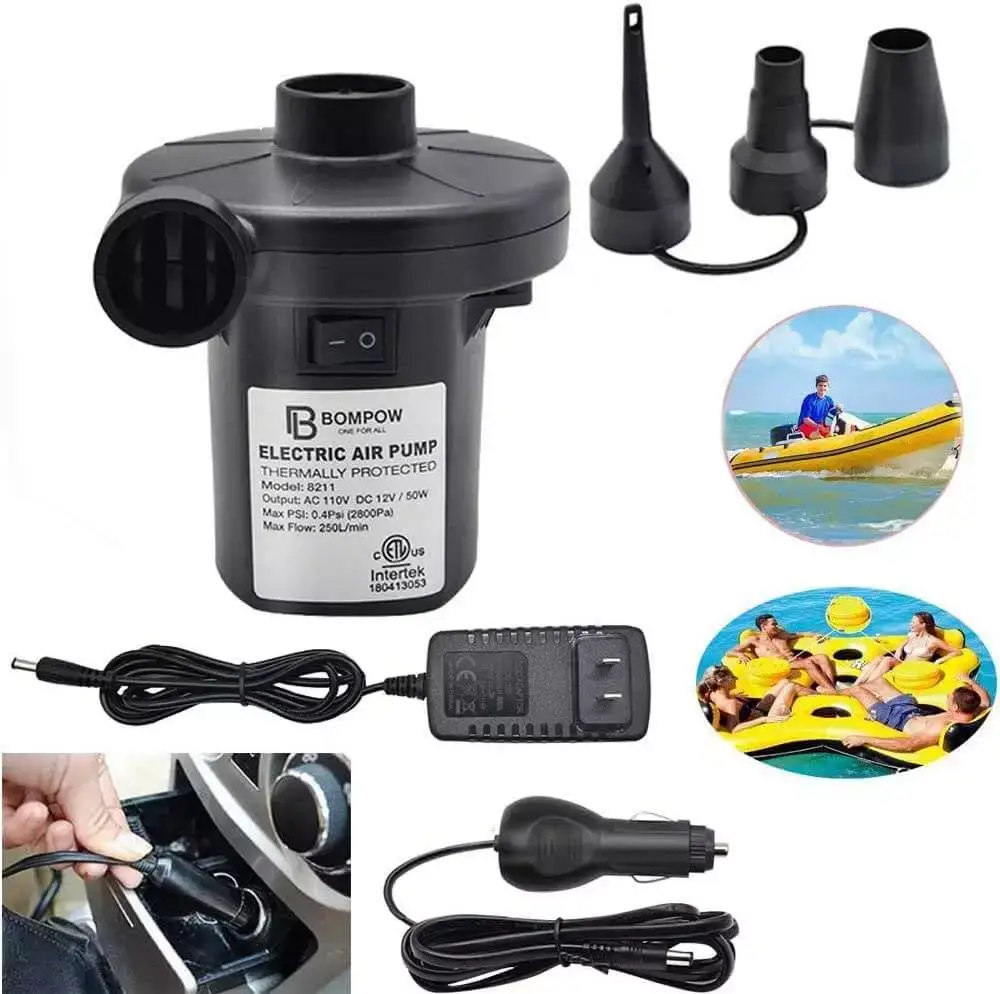 Features
Brand: BOMPOW
Material: Acrylonitrile Butadiene Styrene
Item Dimension (LxWxH): 6.1 x 4.8 x 4.5 inches
Power Source: Corded Electric
Color: Black
WHY IS THIS A TOP PICK?
It's a high-volume, low-pressure pump that can inflate the air bed, air mattress, sofa, pool, swim ring, kayak, raft, and other inflatables pretty quick, and you get it at an affordable price.
Buying Guide: How To Select An Electric Air Pump?
Find out the most significant features that an air pump must include to be placed in the best list. The things you need to consider to choose the best air inflator from the market are as below-
Easy to Use and Carry
An inflator is made to reduce the pain in blowing up the inflatables. Its primary purpose is to pump up things fast and efficiently. Therefore, the mechanism of an air inflator should be easy to understand and well convenient to operate.
Portability is another significant feature to look for in an air pump. Some inflators are lightweight and carriable, while some are a little heavy and not convenient to carry. Yet, we want a device that can be carried around anywhere we want. Therefore, look for a small, noise-free, and travel-friendly air pump so that you can carry them away to enjoy the outdoor activities.
Multiple Nozzles
We use an air pump for various reasons, and some inflatables require different sized nozzles to pump the air. Therefore, get a device that comes with multiple nozzle sizes to be compatible with various items. There are air pumps that have a fixed pipe that cannot be changed. You should consider the nozzle changeability before buying an air pump.
Flow Rate
Flow rate is calculated in GPM or gallons per minute. There are high flow rates and regular flow rates that an air pump may blow an inflatable with. However, the inflatable pools generally require a normal flow rate which a standard air pump is compatible with. The high-flow air pumps are primarily used to inflate a parachute balloon, tire, and high-pressure operations.
Construction
When choosing an air inflator, consider a compact pump with a suitable adapter to fit the mechanism. Additionally, as electrical pumps have many varieties and different mechanisms, choose the one that fulfills your particular requirements. Some types are operated by batteries. So, you have the option to pick it if you don't have a power supply available at the moment.
Cable Length
With a long cord, you get accessibility to more places and things. You can connect the air pump with the power socket from your home when you have a longer power cable. A long cord is useful in any way.
Power Source
A power source is mandatory for an electric air pump to be operated in your home and outside. If you're at home, you'll require a standard outlet with a 110 to 120 volts power supply and plug into a wall socket. And if you're traveling, you can use a DC adapter with a 12v inflator in your car. Or you can make use of the cigarette port in your car's control panel. However, manual air pumps don't require a power source to operate. You can run them manually by pumping with your hands or feet.
Value for Money
A good air pump will provide service against your dollars. Different prices within the same category product may help you get the right one at your budget price. However, a quality product always stands out from the crowd with its superior value and long service life costing you a little higher than usual. However, it must not cost more than thirty bucks.
Why Should You Choose An Electric Air Pump Over A Manual One?
An electric air pump has some additional benefits that you would not get from a manual air pump. These are some additional benefits you can get from your electric inflator-
An Electric air pump is more powerful than a manual pump. They can inflate more items within a certain amount of time than manual ones.
Most electric air inflators come with a pressure gauge that inflates the items at a certain stage and prevents bursting out. Manual air pumps lack this feature.
The electric inflator can run continuously for a few hours while operating a manual device that may tire you up within a few minutes. It saves time and effort.
An electric air pump can use different nozzle sizes for various items, but manual air pumps generally don't include multiple nozzle sizes or thread patterns.
Electric air pumps can be used to power a pneumatic tool or horn.
Inflating and deflating modes make the task easier and less tiring.
FAQs
What type of pump do I need for an inflatable pool?
You can use a manual pump for an inflatable pool but pumping with your hands or feet is genuinely exhausting. Therefore, it's better to use an electric or rechargeable air pump to inflate the pool.
What is the fastest air pump for inflatables?
Among the six products we have given on the list, BOMPOW is the fastest air pump for inflatables.
How to store an inflatable kiddie pool?
Storing process for a kiddie pool is similar to cleaning a regular size inflatable pool described below.
How to clean an inflatable pool for storage?
Remove all the visible debris and drain one-third of the pool. Then pour an adequate amount of all-in-one algaecide and some bleach, and then slosh with a brush to remove the dirt stored at the bottom. Wash it off and scrub and wash it thoroughly again. When the pool is clean, drain all the water and dry completely before storing. Store in the original packaging to keep it fully secure.
Final Words
We hope that you already picked an inflator from the list. Though it's tough to find the best inflator in the market, among our selection, you can diminish the chance of getting a faulty product. We have the best-rated inflators for you. If you like a cheaper option, go for ONG NAMO. However, a high-volume and low-pressure air pump fill up a lot faster. Therefore, you can pick either BOMPOW or Etekcity, whichever fits the needs best.