You know what sea sickness is, don't you? It happens to the people who are not comfortable during a boat ride or boat rides for that matter. Whenever you are at sea, the rolling of water and the waves might force you to be sick.
In those situations, comfortable boat seats are a blessing. For people who like bass fishing, you can call them extremely enthusiastic about the passion they have. You'd see that the boat seats their boats have are very comfortable and very fancy looking.
These people always opt for the most comfortable bass boat seats that money can buy. You're one of those people and to ease off your work, we have created a list of the top 9 most comfortable bass boat seats. These are the best bass boat seats for you to choose from.
Top 9 Most Comfortable Bass Boat Seats
A boat seat might sound a lot more expensive than they can be. You'll be surprised to know that there is a boat seat that will not cost you a fortune, is very standard looking but has a very durable seat frame and is a comfortable seat to sit on. These are considered to be the best boat seats for the money.
We are talking about the Wise Standard Low Back Boat Seat. This seat goes on a back boat seat pedestal. It's a small marine grade vinyl made boat seat with a charcoal gray color. The seat has a high compression foam padding, aluminum hinges with a plastic frame that can sustain high impact.
It may not look like a boat seat that appeals to someone, but it is definitely a great seat for people who love to go for a bass fishing, sitting on their bass fishing boat seat.
Features
Durable Boat Seat
Boats are vulnerable. Especially bass boats because they are small boats with big waves to handle. Even in rivers or lakes you would need a sturdy boat to work through. And the seats need to be sturdy as well. This one has aluminum alloy hinges and a very sturdy plastic frame with high impact durability.
Mounting Fastener
Most manufacturers try to make seats based on a certain model only. That way, for different models, they get to increase their model inventory. This is why people get confused. This model comes with a mounting fastener that enables you to use the seat on a seat swivel or a Standard BIA 4 bolt pedestal system.
Comfortable Seat
The seat has a compression foam padding made of marine grade vinyl upholstery. The embossed detail of the surface is capable of withholding effects of heat, sun, soiling and rain. Heavy duty construction allows you to use it for a substantial length of period.
UV and Mildew Resistant
For a seat to be the best and the most comfortable boat seat, it needs to be resistant to a few things, such as UV rays and Mildew. These can ruin a boat seat very badly. That's why this seat has been made with materials that are UV and mildew resistant.
Specifications
Dimension Height: 19″, Width: 16″, Depth: 18. 5″
Made of marine grade vinyl
Plastic Frame
Aluminum hinges
While some people want a bass boat to take a ride in the lake with family and pack a lunch, some people prefer taking them out in the lake for fishing. Those people need the best fishing boat seat that they can get their hands on.
If you are a person that likes to take your bass boat for a spin and catch some fishes, the XGear Deluxe Low Back Boat seat is the best pick for you. XGear has been in business for long enough that if they are manufacturing an inexpensive boat seat, this might as well be the best overall pick.
The seat is made of marine grade vinyl with proper mounting hardware that can turn this seat to the most comfortable boat seat that you can buy for your fishing boat.
Features
Aluminum Hinges
Most boat chairs can be called folding boat seats. Every seat comes with a hinge that will allow you to fold down plastic seats or vinyl seats according to your necessity. But not all boat seats don't have sturdy hinges that would last long. This one comes with aluminum hinges.
Perfected Comfortable Boat Seat
The foam padding is not just compressed, it's highly compressed for allowing the rider to enjoy the maximum comfort it can. Also, It's lightweight so it will not exceed the maximum weight capacity of the boat in any way.
Mounting Advantage
Unlike other seats, this doesn't come with mounting screws. rather, it comes with proper mounting hardware with tie down straps. You can easily mount this seat to any boat seat pedestal.
Automatic Fold Down
The best part about this seat is that the backrest automatically folds down when you are not using it. This not only protects the seat surface from rain and sun rays but also keeps the boat seat clean.
Specifications
Dimension: Height: 19″, Width: 16″, Depth: 14″
Marine grade vinyl
Molded plastic frame
Aluminum hinges
Instead of looking for used bass boat seats, you can go for the best folding boat seats money can buy. You can even call any of them the best bass boat seats. One of the boat seats that we picked, the best boat seat that fits the name of being the best folding boat seat, is also an inexpensive pick.
The NorthCaptain T1 Deluxe is the one we are talking about. NorthCaptain is a prominent brand in the world of boating. If you want to go for a fishing and a boating trip, this seat is the perfect pick for you.
The low back boat seat design makes it an ideal choice for both fishing and boating. You may want to pick a seat that makes you ready for fishing and also you can lay back whenever you are not. The thick padding is not always enough.
Features
UV Resistant Plastic Frame
UV rays can damage the structural integrity of plastic. But among all plastic polypropylene is the one that doesn't get damaged by UV rays. This seat is made of an injection molded plastic frame that is durable enough for any weather conditions.
Foam Padding
The foam padding is unlike other seats. This can be a highly concentrated foam padding that stays the same for a very long time despite use. The foam padding is thick but soft enough to ensure comfort to whoever is taking a ride or going fishing.
Easy Installation
Most comfortable boat seats lack the factor of easy installation. As these are boat seats, people tend to think complicated mounting is the way to go. but this one comes with 4 stainless steel mounting screws that can be used for mounting the seat.
Rough Weather Compatible
Wondering whether your boat seats can take on the rough weather out there? This one definitely can. The build of this boat seat is made in such a way that it can go through rigorous weather conditions.
Specifications
Dimension: Height 20",Width 16", Depth 15 "
Marine grade vinyl
Injection molded polypropylene frame
Aluminum hinges
The problem with most boaters is that after a while their back gives out for sitting in such weather conditions on uncomfortable plastic seats. Even so, the people who have back problems but can't quit boating. This boat seat is for them.
Introducing the best boat seat for back, the Tempress ProBax. It's an orthopedic seat which was made under ergonomic seat experts and spinal surgeons' supervision. It is the best option for people with back problems. If you have back problems and need a certain back support seat, this should be your pick.
The seat depth is increased to support the back. It complies with the ABYC-31 standard. It is the highest safety standard for boating. That means this seat was made ensuring maximum safety while you are out for boating or fishing.
Features
Versatile Use
As it's an orthopedic seat for back support, manufacturers made sure that it can be used for versatile purposes. You can use it on bass boats, Jon boats, as pedestal fishing seats, in ice shelters, and even on scooters.
Stainless Steel Hinge Pins
The frame of the boat is made out of injection molded polypropylene and has stainless steel hinge pins. So, it can be expected to be much more sturdy than regularly made plastic frame seats. Also, the steel is stainless so there's no chance of getting rust.
Easy Installation
The boat seat can be installed using four mounting screws. Under the seat there is 180 degree Loctite that ensures safety. The bolt holes are 5.25″x5.25″ standard universal pattern. So, you can pretty much mount it everywhere.
Safety Compliance
Products like these often fail to show any documentation of whether it is safe to use them or not. This seat is actually suggested by orthopedists to their patients who are boaters. Also, it complies with ABYC H-31, it is the highest safety standard for boating in the US.
Specifications
Dimension: Height 23.5",Width 18.5", Depth 19.5"
Marine grade vinyl
Injection molded polypropylene frame
Stainless steel hinge pins
Not all fishing boat seats are of the same size. Different bass boat seat sets can offer different sizes. Especially when you are looking for high quality boat seats, the first name that comes into mind would be Attwood folding boat seat. But the price always disappoints.
If you have seen the seats, most are small sized. Just capable of seating one person, barely. But there are people who have a larger body. For them, the best boat seat for big guys is the Leader Accessories Two Tone Captains Bucket Seat.
This seat has a sporty look. It makes any boat have a sporting edge. The mounting system is universal. Though this seat is specified for people with larger bodies, it can be extremely comfortable for everyone.
Features
Comfortable Design
The design of the chair is ergonomic. Apart from that it comes with a headrest and is a perfect fishing boat seat for anyone to sit on comfortably. And if you have a boat that packs a few horses, the sporty look of the chair is definitely worth a shot.
Highly Durable
This high quality boat seat is made of highly durable materials such as high impact plastic frame with rotational molded plastic and stainless steel fastener to make sure that the seat stays in one place. It's not as sturdy as anodized aluminum hinges but is pretty durable.
Perfect Back Support
The design may not be intended for it but the perfect curve and the ergonomic design turned this bad boy into a seat that can provide perfect back support. The compression foam padding is not too much, just perfect for being comfortable in a choppy ride.
High Back Seat
Small back seats often fail to provide the back support that they promise to. But this boat seat here is a high back seat. So, it will go nowhere without providing proper back support to anyone who is sitting on it. Especially the big guys.
Specifications
Dimension: Height 23.5",Width 20.5", Depth 26"
28oz marine grade vinyl
Rotational molded plastic frame
Stainless steel fastener
Wise is a name that has been active in the world of boating for the last 51 years. Yes, people look for a wise bass boat seat directly. Because everyone knows that Wise has been making exceptional boat seats and other accessories for 5 decades and there is no room left for mistakes now.
From a wide range of wide boat seats, the one we picked is a very common and simple one, it's the Wise super deluxe low back boat seat. It's a very ordinary looking seat that would not increase the beauty of your boat.
But it is the seat that wise has sold probably a few hundred thousand units by now. The simple design lets people get rid of all the fluff and only understand what it is capable of delivering and what it's actually made of.
Features
Robust Seat Frame
The seat frame this seat has is made of injection molded plastic which is capable of withstanding high impacts. The hinges are made of aluminum. Entire ensemble of the chair is robust and one look would surely say that this chair means business.
All Weather Seat
Most boat chairs lack a little something. Their main lack is that while some are suitable for summer, others are good for rainy and winter seasons. This creates confusion. That's why Wise decided to make this seat an all weather one which has marine grade vinyl that can sustain in the effect of heat, rain and soiling.
Simple Installation
As simple these bass boat seats are, the installation is also very simple. It can be easily attached to BIA standard seat mount and seat swivel. Also, comes with fasteners that you can use to fasten it onto the boat.
Inexpensive
One of the most significant selling factors for this boat seat is its price. It's pretty cheap for such a seat that packs a few good features and also can last for a very long time. You are actually getting it at a very fair price.
Specifications
Dimension: Height: 18″, Width: 16″, Depth: 16.25″
Marine grade vinyl upholstery
High impact injection molded plastic frame
Aluminum fastener
Jon boat seats are entirely made of plastic. Plastic seats are not that comfortable. Yes, it's a place where you can sit but the seat has no padding whatsoever. So, what manufacturers can do is improve the design a bit so that people can be less comfortable while they are boating or fishing.
To ease everyone's issues with plastic fishing boat seats, Shoreline Marine came up with a Jon boat seat having a rugged support and an aesthetic style. There is nothing much to describe about the seat because it's made using a mold where the vinyl was inserted.
The density of vinyl while making this chair is pretty high. Despite that the boat seat is very lightweight and as there are no hinges or frames, it's pretty lightweight.
Features
Stain Resistant
A seat entirely made of vinyl, without having any padding or anything, you would expect that there will be stains. But surprisingly enough, the marine grade vinyl used for making this boat seat, has made it completely stain resistant.
Versatile Fitting
Problem with most fishing boat chairs is that they tend to fit only the model they were designated for. That's why people can't go for the boat seat they like. But this one can fit into standard seat pedestals, seat swivels and slides.
Durable
Even the most comfortable Jon boat seat can be very fragile when people try to lean back a bit. The hinges break no matter what they are made of. But the best part about this fishing boat seat is that no matter how much you lean back, it will not break.
Good Design
The design concept of this seat is made in such a way that whoever sits on it, shouldn't feel that it's uncomfortable. As there is no padding, the design makes up for the comfort factor expected from a boat seat.
Specifications
Dimension: Height 17",Width 18.6", Depth 14.6"
Marine grade vinyl
No plastic frame
No hinges
There are some of us who prefer such designs that might be a little different from everyone's preference. But camo swivel boat seats are very common among those boaters who prefer a certain military vibe.
For those of us who love to catch a camo vibe, the best choice for them is to go with the Wise 8WD112BP Camo Pro Casting seat. It's a seat that is bound to please anyone who sits or even looks at it.
This seat goes best with a boat that has a camouflage skin going on. Other than that you can use it for normal boats with regular skins. Not just for the skin, this seat is actually one of the most comfortable bass boat seats that you could pick for yourself.
Features
Durability
Durability is a feature that wise has never compromised with. The entire seat setup frame is made of high impact injection molded plastic. The foam padding is high compression so that seat is also very robust yet comfortable to sit on.
Versatile Mounting
Unlike other boat seats that are designated for a specific type of boat model, this seat has been designed in a way so that it can be mounted to every BIA standard 4-bolt pedestal system.
High Quality Fabric
The camouflage color is actually available in many fabrics. High quality and low quality fabrics. To decrease the price of their boat seat, many manufacturers use low quality fabric. Wise never does that. In this boat seat, the camouflage covering is made of 500 Denier Cordura.
Overall Quality Assurance
From a manufacturers perspective, it is complicated to offer warranty on such items. But wise is extremely confident about their product. They are offering a 5 years warranty on this boat seat.
Specifications
Dimensions – Height: 5.25", Width: 15″, Depth: 11″
High compression foam and Cordura nylon
Injection molded plastic frame
No hinges
NORTHCAPTAIN T1 – Best Boat Seats For Rough Weather
Not all boat seats can keep you comfortable and safe while the weather at the sea or the river is rough. You need the best boat seats for rough weather for that. Not that anyone prefers rough weather for boating, but it should be one of the major concerns considering the weather at water bodies can go rough at any time.
For those precautionary guys, one of the most comfortable bass boat seats that is best suited for rough weathers, NorthCaptain T1. Don't worry, these seats don't have seat belts on them to keep you safe. That's not the safety we are talking about.
The safety this boat seat ensures is the seat itself. It is probably the most durable one that I personally came across in this budget. if you use it you will agree too.
Features
Durability
As I've already said, this seat is made with extremely durable materials. The frame is made out of injection molded polypropylene, which is also UV rays resistant. That means, nothing would happen to the seat for a substantial amount of time and usage.
Comfortable Padding
The foam padding is highly compressed. The body of the seat is made out of vinyl which is UV treated as well. You can use this seat as long as you want, the seat surface will not get damaged by the sun that's for sure.
Easy Installation
Just like any other high quality boat seat, this one can be mounted pretty easily. You get 4 screws with each seat. All your boat needs is a 4-bolt seat swivel system which is the current standard in almost all boats.
Beautiful Design Concept
The design and the color concept of this boat seat pair is based on the color of the water and the simple aura of the white color. If this seat is visible from afar, anyone would feel that the seat is exactly where it belongs.
Specifications
Dimension: Height 20", Width 16", Depth 15"
Marine grade vinyl
Injection molded UV resistant polypropylene seat shell
Aluminum hinges
Things to Consider Before Buying The Most Comfortable Bass Boat Seat
While picking up these 9 most comfortable bass boat seats, we were relentlessly looking for the best options available. As you know the current situation of the boat seat market is ridiculously crowded, it's hard to find the best options.
So, what we did is made a list of the things that we would consider. We had our debate and tried to narrow it down to the few of the best considering factors that went into this list of the boat seats.
Considering how ridiculously crowded the boat seat market is and how many more models are coming in each day, we can't say that these 9 boat seats are the most comfortable bass boat seats according to everyone. This is solely our opinion.
We have not stopped the research to find more boat seats, We will add or replace these if any of the new ones do substantially better than any of these. Till then, let's look into the factors that we considered while we were picking up these boat seats.
Build Material
A boat seat will be as good as the build material is. This is not only true for boat seats, but also for every product there is. The build material is an indescribably important factor. You can't just pick a material, build an item and expect it to be of the best quality.
So, while picking up these seats, we made sure that the material is top notch. You would see that most of the seats either have an injection molded plastic frame or a polypropylene frame. These frames are the ones you can trust.
In case of the hinges, you will see that we picked those that have aluminum hinges. Most people prefer stainless steel ones, but stainless steel can get damaged easily by water and salted water. We picked one seat with stainless steel hinges but we were pretty skeptical about it. The best hinge choice is aluminum.
As for the body, the body of the bass boat seats should be made of marine grade vinyl or nylon. You see, marine grade vinyl is a phrase commonly used because vinyl has been tested to be of marine grade and it is. As per nylon, not as good as vinyl but does the job.
Comfortability
You searched for the most comfortable bass boat seats. That means you are tired of the best bass boat seats and now your main concern is comfort. The comfort expected from a bass boat seat is of many tiers.
At first the foam padding, the foam padding should be compressed. And the compression should be high. There are certain boat seats which have foam padding too but after a few months of use, the foam padding turns into a lump of padding.
You don't want a seat that has a lump in the name of foam padding, do you? Nobody does. That's why, while picking up a boat seat, make sure it has a compressed and high quality foam padding.
Now for the lumbar and back support. Some seats come with no back support, those are for them who don't need any. But there are some of us who would want to lay back a little bit while boating or fishing.
If you want back support, you can get back support in a bass boat seat. it's totally your choice. Make sure to take this decision before you finalize the seat for buying.
Mounting Compatibility
If I start listing boat seats according to different models, this list of the most comfortable bass boat seats will become never ending. There are so many model specified seats that probably have better features.
But we are talking about the boat seats that can be mounted to any boat seat pedestal or boat seat swivel deck. All you need is a few screw holes in your boat. In some cases, you might have to buy a seat pedestal depending on the boat model you have.
The boat seats that we picked are the ones that can fit any standard boat model out there. The most comfortable boat seat needs to be the most compatible boat seat too. Otherwise, how can you make a choice?
So, while picking up a boat seat for your bass boat, make sure that the seat is compatible with the mounting option you have. If you pick up a boat seat that you can't install in your boat, what's even the point of picking it up?
Longevity
A boat seat is not something that you would buy every now and then. This is not a food item that we would eat and would have to buy again. It's a boat seat. It will last for a long time.
While picking these seats up for the list, longevity was a huge concern for us because the lowest price of a boat seat starts from $30 and can go up as high as $260. It's going to be an investment. And if the boat seat fails to last at least a few years, being intact, it will be a loss investment.
So, we made sure that these boats are tough and have what it takes to withstand the toll of people sitting on them for years. A seat is to sit, to sit for many years. If you can't do that, why would you spend so much money to buy it?
Price
The reason why we added 9 different boat seat options for you is so that you can compare the features yourself and pick the one that suits your requirements and your budget.
We don't want you to overspend on something that you may or may not use in months. If boating and fishing is a recreation for you, you won't be using it more than once or twice a month even if you are a frequent user.
So, for some it will be a bad investment to spend such an amount. Again, some people would buy a new boat seat based on how it will make their boat look like. Make sure you have your priorities set properly before you start spending your money.
Weather Compatibility
Now this is a crucial one. Nobody wants to get caught in choppy weather. How would you feel if you were caught in a storm and the only thing left to do is pray and try to survive? Well, with a bass boat, you may not face that.
But what about heavy rainfall or high waves? What would you do then? The boat would be completely fine provided it doesn't hit anything. If the boat seat that you are sitting on is not rain proof, it will get damaged.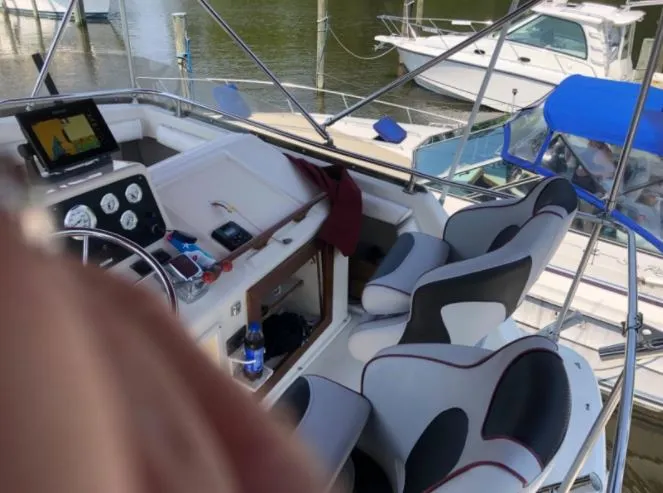 So, the most comfortable bass boat seat would have to be weather compatible. You don't want some heat or some rain to ruin the boat seat. The boat seat to survive in every weather condition needs to be made with high quality weather resistant materials.
Not only that, the seat has to be tested. There are seats that have been taken through rigorous testing to make sure they are worth their money. So, pick a boat seat that can sustain every weather.
Frequently Asked Questions
How much does it cost to reupholster a bass boat seat?
It varies from shop to shop. The average hourly charge for reupholstering a bass boat seat would cost between $50 to $150. For some fancier models depending on their design, material, shape and size, the price can go as much as $300 to get the entire work done.
Are Millennium boat seats comfortable?
The main problem with vinyl seats is that there is no room left for breathing. That's why people who have an oily skin complexion should expect sweating. But millennium seats are not just only comfortable, they avoid and overcome the entire sweating factor. Some might suggest they are better than vinyl seats. But the truth is vinyl seats are much more durable than millennium boat seats.
How tall should boat seats be?
A standard boat seat height is 13 inches. But it depends on the user. You can get the boat seat height increased.
Final Words
So, there you go, this is everything that you have to know about most comfortable bass boat seats. These are the top 9 picks of 2022. You can compare your requirements with the boat seats that we have listed above.
I hope you will be able to select one seat that meets the requirement. We have spent our time to find the best seats possible for you to choose one for your bass boat.
But you have to be cautious regarding the specifications you have for yourself and especially the mounting option available in your car. If you end up picking up a boat seat that doesn't fit the mounting option of your boat, it will become a burden.
So, pick a seat that suits your boat the best. May your next boat ride be spectacular.