Did you buy a new inflatable dinghy for the very first time? And how do you pump up an inflatable boat correctly? Nowadays, many people prefer Inflatable watercraft to sail that are made of aluminum, wood, or fiberglass. The causes behind choosing inflatable dinghy are they are lightweight, don't need a prominent place to store, and are convenient to use.
But If you can not inflate it properly, it can cause you a safety hazard. So For beginners, it's essential to know how to inflate an inflatable craft precisely to avoid any unwanted situation. To learn how to inflate an inflatable craft, you do not need to wait for summer. You can just follow the steps below.
How Do You Pump Up An Inflatable Boat? : 9 Simple Steps
Do you know how to inflate a rib boat? Preparing an inflatable craft for a ride is not that hard. Be it an inflatable dinghy or a rib boat, these 9 steps are mandatory to learn to inflate it properly. You can install the watercraft yourself if you have some simple DIY knowledge. The easiest and most efficient way to inflate a watercraft is given here in different steps for your understanding. The steps are:
Step 1: Layout Your Dinghy
First, you have to choose a flat surface for the inflation of your boat. Try to avoid a rough surface containing sharp objects like rocks, shells, sticks, etc. Be careful of these things not to come in contact with the watercraft surface. Or they will cause damage to the dinghy. 
After choosing the place, now unpack or take out your watercraft from your store and Unfold it. Lay it out on the ground or on any flat surface. Now expand the tube as much as it is possible. It will make inflation easier.
Step 2: Remove Valve Covers
Now you have to remove the caps from all the valves. Before removing the valve caps, look if the caps are attached to the craft with a string or have any number marked on them. If none, then you may number them first. It will help you to put them in their place after inflation.
After marking the covers, remove them. If your boat has safety valves, you have to turn the inner part to open it. With this, your watercraft will get ready for inflation.
Step3: Choose The Way You Wanted
There are different ways to pump up your inflatable watercraft efficiently.
With your mouth – In this way, you can inflate small inflatable boats. Usually, people follow this to pump a dinghy when they have no access to inflation equipment or need to use it in an emergency.
A manual pump – A manual foot pump or a hand pump is suitable for small and medium-sized inflatable ships. Using a foot or hand pump for a large dinghy is a little laborious.
An air compressor – Using an air compressor is ideal for large inflatable ships. It needs a source of power.
Do not forget to check the pump hose adapter you choose to inflate if it fits the valve. Otherwise, it will not pump the dinghy efficiently.
Step4: Fill The Chamber Up To 50%
If you fill the chambers, more than 50% will cause you trouble when you try to install flooring. Filling each section 50% first will give it a shape and make it easy to install a floor to the dinghy.
Try to follow the pattern instructed by the manufacturer for pumping the boat. Otherwise, you can start from the ship's rear and continue clockwise. Do not fill the chambers more than 50% of its capacity.
Step5: Installation of Flooring
The inflatable boats come with two types of floor: air floor and hard floor.
Air floor– air floor is effortless to Install. Fit the beds inside that and line them up inside the dinghy. Then pump them away.
Hard floor– Installing a hard wooden floor is a little tricky. The hard floors come in pieces. First, align the parts on the bottom of the ship as instructed in the manual. Check if all the floor pieces are installed in the correct order. Then set the stringers in place by placing the longer side against the floor of the inflatable craft and the thin portion facing upward.
Once the floor is installed, make the keel valve lined up. Finally, make sure the floor is centered inside the tube from all sides.
Step6: Install Seating
After installing the floor, now it's time to install the seat on your dinghy. Simply slide the seat onto the bracket or hook it into a strap.
Step7: Pump Up To 100%
Now pump up the side champers again to 90%. After one side, inflate another side 100%. Do not fill the first side 100% that can damage the connecting fabric.
Step8: Inflate The Keel
For completing inflation, finally, pump the keel. Keel installation needs more air than the other chambers in the boat.
Step9: Safety Checks
Before placing your boat in the water, you need to ensure that all the valve covers are correctly set and that there is no puncture on the tube.
Now your watercraft is ready to go for a watercraft adventure.
Where Can I Use My Inflatable Boat
Inflatable ships are primarily used in rescue operations to bring people from arg ships to the shore. Also can be used for short-distance traveling. Day by day, for scuba diving, excursions, and kayaking, the use of inflatable watercraft is increasing.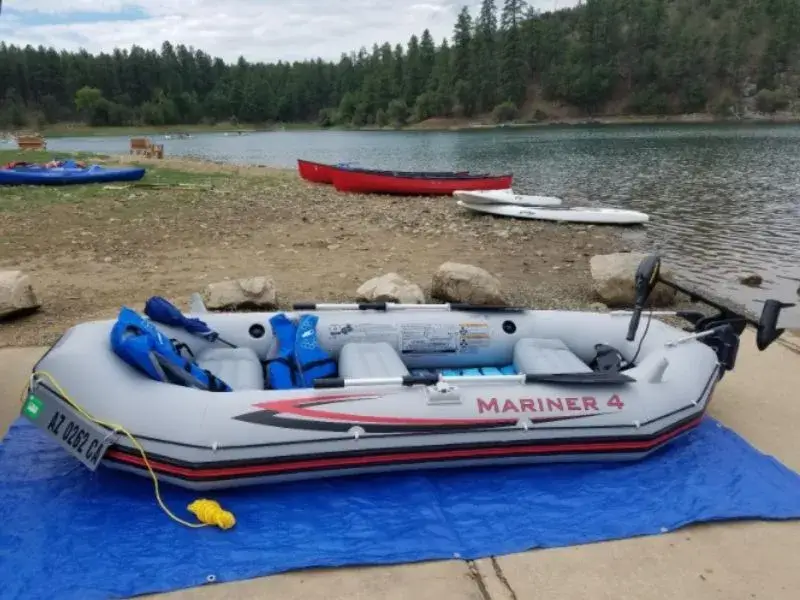 Conclusion
Did you get how do you pump an inflatable boat? Please read the whole content once again and try it yourself step by step for better understanding. If you fail to pump the inflatable watercraft effectively and adequately, it can cause you severe damage. So, you must correctly install the craft for everyone's safety.