Kids under 12 love to play in the water. Especially when it's summer and you can not take them to the water park, it becomes heartbreaking for them. But, it'll be great if you build an eco-friendly water park right outside your lawn or garden, isn't it?
In this article, we would deliver in-depth Banzai Sidewinder Blast Water Park Reviews. This will cover the pros and cons of this product. That will help you to decide the best before you pick up your one. 
This portable air-blown water park will surely make your kid's summer days enjoyable and refreshing. Besides, it is completely harmless. Therefore, you can simply set it up in minutes and let your children play to their heart's content.
Overview Of Banzai Sidewinder Blast Water Park
The Banzai Sidewinder Blast Water Park has a large dimension of 180″ X 202″ X 125″ when completely inflated. Kids will get more than enough space to roam around, slide, and play in the water consistently. This waterpark can take 3-5 kids under 12 at a time to play in the water slider with ease and comfort.
Its body is made of high-grade and strong polymer to withstand a load of a maximum of 150lbs. The edges are designed quite thick and strong will keep them safe while climbing or sliding down the ground. 
This portable water is immensely lightweight. You can carry it anywhere being deflated in a carrying bag. Besides, you can push and move this inflated water park to the most suitable place effortlessly.
The small pool can hold a good amount of water with a depth of only 8-10". That helps the kids to splash and enjoy, to pass a good refreshing time.
Its climbing wall has built-in pockets and handles for allowing your kids to climb up without any difficulty. It keeps them safe from falling and getting hurt.
Your kids can also relax on the top with an all-side net covering. It can be installed with an overhead water sprinkler. This shoots continuous water directed towards the slide to keep it wet and available for uninterrupted slides.
For more thrill and enjoyment, there's a small tunnel in between the sliding tower. It can be accessed from outside. The foot pockets can be used to climb up the tunnel. Moreover, a small attached slide would take your kid to the main pool. It will keep the kids engaged in playing with the splash tool without getting bored.
The water-pool edges have two built-in water cannons. These can be connected with sprayer pipes straight from the garden hose. Therefore consistent water spraying towards the kids makes it an even more happy and enjoyable moment for the kids.
You will get everything required with the packaging. The package includes 1 inflatable water slide. A blower motor for continuously blowing air to the water slide and keeping it inflated. One water-spraying hose assembly for connecting the garden hose with the sprinkler and water cannons.
Three blower ground stakes to keep the blower stable on the position. Nine water slide ground stakes to keep the water slide in a stable position with the ground. A carrying bag and four repair patches to repair the leaks.
The dura-tech buildup ensures high strength with increased durability, The air pockets keep away the extra air blown inside to avoid overfilling. The carrying bag has vents on each side. It allows the deflated water slide to vent away from the leftover water droplets and keeps the product dry. This inflatable water park will surely put a smile on your kid's face during summer.
Banzai Sidewinder Blast Water Park Reviews
The ins and outs of the features of this water slide would be discussed here.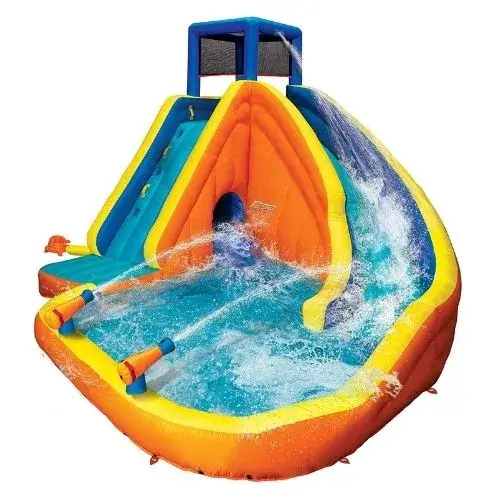 The Construction Quality
The polymer used to make this water slide is very sturdy and durable. It does not feel or look cheap. This plastic has the ability to withhold the stress and weight of the kids with no difficulties. It is not going to get a leak easily unless tremendous pressure has been applied to it. The wall climber is strong enough to carry the kids to the top and keep them stable.
Kids Safety
The Banzai water slide is made of harmless materials. Its wall climber and the slide have a strong durable build to hold the kid's weight. The top chamber in the tower is covered with soft nets. It keeps the kids safe from accidental falling.
Moreover, the edges on the outer side of the slide and climber are very thick and have good width. Therefore, there's very little chance of kids getting hurt by tripping over the slide. No harmful or sharp pointers are present in the entire setup.
This water slide can be put very stably with the ground by using long stakes. These are powerful stakes that hold the setup firmly stuck to the ground and prevent movements even in strong winds.
Multi-Functions
The entire setup of the Banzai water slide has been installed in many functions other than just sliding. These will amaze the kids and keep them out of boredom while playing in it.
There is a hidden tunnel in between the slide and the climbing wall that adds more thrill for the kids. They can get into the pool from outside by climbing and sliding down the pool with a splash.
This pool edge has two water cannons that shoot continuous water sprinkles towards the kids. Kids can maneuver these to shoot water towards their friends and siblings inside the pool.
Your kids will also get continuous water blasts from the overhead water sprinkler on top of the chamber. It keeps the slide wet and makes it easy for the kids to slide down.
The pool itself has a good water holding capacity which can be used for playing and splashing water all around.
Subtle Color
This water slide has a very attractive color, especially for the kids. The inner side of the pool, slide, and climbing wall is colored blue. It coincides with the color of water and makes it look very soothing.
The edges are colored Yellow for highlighting. Besides, the outer layer of the waterslide is colored orange which is one of the favorite colors for kids.
Holding Capacity
The Banzai water slide is big enough to hold 3-5 kids at a time. They can play with ease inside the pool or the slide. In terms of weight, being fully inflated this product has a maximum holding capacity of 150lbs.
To Whom This Park Is Suitable For?
This portable water park is suitable for kids aged from 5 to 12 years. 4-6 kids aged between 5-8years can play at a time in this water park without any hassle. On the contrary, 3-4 kids with an age of 9-12 years can easily play in this spacious water park.
Conclusion
Kids love to get surprises from their loved ones. And if he/she is a water baby then this Banzai Sidewinder Blast Water Park would be a good occasional gift.
Judging by the features and specifications of this product, it is worth the price. During summer holidays kids can spend quality time playing and splashing water in this water park.
You need not go to the nearest water park every Sunday to keep them happy. Rather you can buy their own and personal water park and set it up in no time on the lawn. Besides, its multi-functionality will keep the kids happy away from boredom and Therefore, above all this waterpark is a good deal to put a wide smile on your kid's face during hot summer days.